Pu-Erh Chinese Tea: (fermented tea) – Dr. Bryce Wylde recommended this tea on the Dr. Oz show.   Since then we have had many requests for this tea and this is just a quick post to let you know that Alive Health Centre, Morning Sun and Supplements Plus have it! We carry the Uncle Lee Organic Pu-Erh.
Why drink it?
There has been much talk lately on the Dr. Oz show about weight loss and in particular shrinking fat cells.   Raspberry Keytones are known to do this but also Pu-Erh Chinese tea helps to shrink fat cells as well.
When should you take it?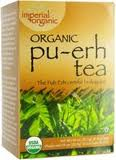 Breakfast: drink 2 cups help to shrink fat cells by activating enzymes.
Other teas that were recommened:
White Tea for Lunch – Prevents Fat Storage – Contains EGCG and Theanine
Chickweed Tea for Afternoon to prevent water weight
Bilberry Tea – Balance craving Evening – 1 cup
Other tips on Weight Loss From the Dr. Oz Show:
Bust Your Fat Butt: Dr Oz recommends Lean diet and Kudzu Root.
Sweetener Dr Oz recommends: Coconut Palm Sugar
As always, we hope that you will come and visit us at either Alive Health Centre, Morning Sun or Supplements Plus. Do not sit in silence; there are so many things you can to better your health! Get excited and take charge of your health. Let's work together, along with your doctor to ensure you are doing all you can to lead a happy and healthy life. Our team looks forward to helping you with what ever your health concerns are.