Testimonial
"I have been taking your pills for 1 week and I cannot believe the pain relief I have!! I have fibro, arthritis, and the nerves in my left arm are kaput which makes my hand very sore and numb. I went from a pain level of 10 to a 5!! I have been telling everyone I know about your miracle pills. I will NEVER be without them!" – Petra B. NB., February 2016
Hemp Seed Sativa Seed Oil
At Alive, Morning Sun, Supplements Plus and ShopAlive.ca Med Marijuana Cannabis Sativa Seed Oil has become a customer favourite because it has helped many who suffer from pain.
There are 45 nutrients the human body can't live without, nor can our bodies manufacture.
– 24 minerals,
– 13 vitamins
– 8 amino acids.
While no single food has all of them. This is why Med Marijuana Seed oil Gel Caps are essential for quality of Life.
Med Marijuana Seed Oil gel caps contain 100% pure Cannabis Sativa Hemp Seed Oil (strain is bred for medicinal purposes) first and foremost.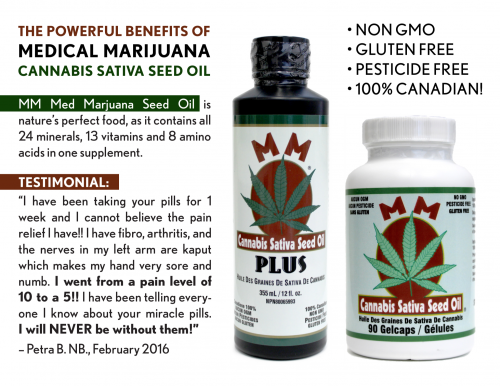 What does Cannabis Sativa Seed Oil do?
Cannabis Sativa Seed Oil provides the perfect ratio of the omega cluster (3,6 and 9) to the exacting ratio that mammals require for optimum health. * Research has shown that supplementation with omega 3 alone can have a reverse effect on the immune system and can lead to hardening of the arteries.
Med Marijuana Seed Oil gel caps have an exceptional concentration of EFA's (80%). EFA's (essential fatty acids) are the omega fats that must be ingested. They are known for their role in preventing heart disease, high blood pressure, high cholesterol,cancer, arthritis and much more.
Med Marijuana Seed Oil gel caps contain as substantial amount of Vitamin D, Vitamin E, Potassium, calcium., magnesium, iron, copper (good for absorption, storage and metabolism of iron and is required for brain development and nerve cell communication).
The protein in Med Marijuana Seed Oil gel capsules mimics the globulin protein found in our bodies.
Who should use Cannabis Sativa Seed Oil ?
All diseases and viruses stem from a deteriorating or malfunctioning immune system Med Marijuana Seed Oil Gel caps assists in the restoration of the immune system.
"It's a perfect meal in an unattractive presentation."
You can not overdose. No side effects.Will not interfere with any other medication.
Dosage / Directions
We recommend a minimum of 3 gel caps daily. However, no one knows your body's needs more than you! You ARE the "captain" of your own ship. You may or may not require 6 a day or more. You CAN NOT overdose on NATURE'S PERFECT FOOD!
FAQ
Is this legal? Yes. Our products are batch tested for THC following processing according to Health Canada protocol. The concentration of THC in all our products is "non detected". CBD oil extract (cannabidiol) comes from the leaves of cannabis plants (not the seeds). Oils derived from the seeds are not a significant source of CBD.
Will I get high using this product? No. While containing trace amounts of THC, Med Marijuana has no psychoactive properties whatsoever.
Can I overdose? There are no side effects. Our nutritional products are safe and natural health alternative containing the complete omega EFA profile in a balanced blend.
Will I get addicted? No, this product has no addictive properties.
Lastly, as a small Canadian business, online sales have helped us keep going. Did you know that a percentage of our online sales go towards the Food banks of greater Vancouver? You are not only supporting us, but we are also working together to help support those in need.

While we practice social distancing we hope you will visit us online at:
Do not sit in silence; there are so many things you can do to better your health! Get excited and take charge of your health. Let's work together, along with your doctor/health care professional to ensure you are doing all you can to lead a happy and healthy life. Our team looks forward to helping you with whatever your health concerns are.