Studies show that turmeric may help fight infections, reduce inflammation, treat digestive problems, liver problems, skin diseases, and wounds. Curcumin is a powerful antioxidant and it also stops platelets from clumping together to form blood clots. Turmeric is such a beautiful herb that has so many powerful benefits!
We sell many different kinds and forms of turmeric at Alive Health Centre, Morning Sun Health Foods and Supplements Plus, as well as our online store, ShopAlive.
We are currently near the end of our June Flyer Sale, where we have 3 excellent forms of turmeric ON SALE! Let's look into these 3 products a little deeper to see if they are the right choice for you: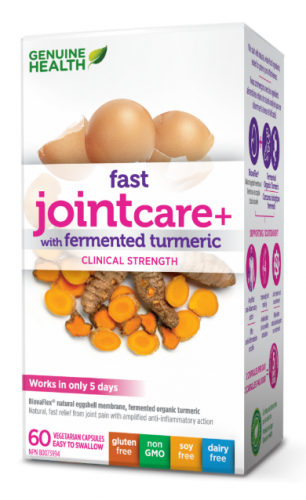 Genuine Health Fast Joint Care with Turmeric
Fast, effective relief from moderate joint pain and inflammation – naturally. Only fast joint care+ with fermented turmeric nourishes and repairs joints with the unique combination of BiovaFlex® natural eggshell membrane and fermented organic turmeric, for relief in just 5 days.
Turmeric is a proven ingredient for taming inflammation and joint pain, providing improvements like less pain, less joint stiffness and better physical functioning.
The only problem is that the active ingredients in turmeric can be hard to absorb – and relief takes high doses over a long period of time. That's why we ferment turmeric – to make it more bioavailable and to amplify its antioxidants and anti-inflammatory effects!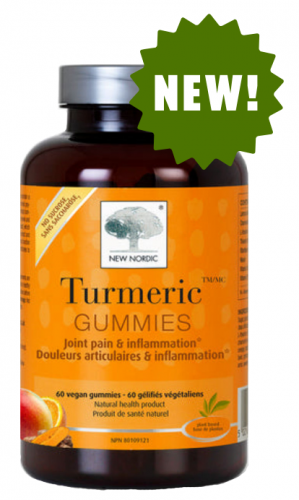 2. New Nordic Turmeric Gummies
Customer Review: "I'm in my early 60's & for 10 years experienced increasing pain in my hands. Plus my left knee in the past 5 years causes discomfort. For almost 3 months I've been taking Tumeric Gummies. Wow what an improvement. My hands no longer cause me pain or extreme discomfort as in the past. My knee has improved 80 %. The odd occasion there is a sensitivity but it's manageable now & disappears within a day or two since taking 2 Tumeric gummies a day. They taste great. Thank you to Nordic for helping me live a better pain free life."
Turmeric Gummies are non-GMO, free of sugar, salt, gluten, yeast, soy, dairy, and any artificial preservatives, flavours or colours of any kind. Suitable for vegetarians and vegans. Manufactured in the EU under pharmaceutical control of purity and content. Not tested on animals.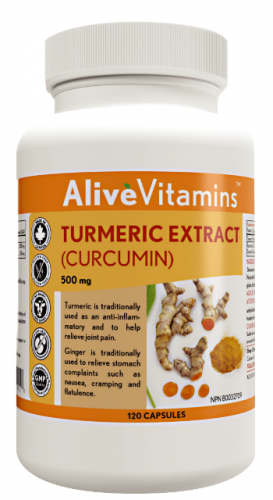 3. AliveVitamins Turmeric
The major component of turmeric is curcumin. This powerful antioxidant supports colon health, helps protect the nerves, reduces inflammation and aids in maintaining a healthy cardiovascular system. Curcumin inhibits platelets from clumping together to form blood clots.
AliveVitamins Turmeric helps to fight infection and reduce inflammation. Also turmeric has been shown to help in the prevention of Alzheimer's. It also protects the colon and lastly helps prevent blood clots. AliveVitamins Turmeric contains no corn, citrus, dairy, eggs, fish, gluten, lactose, shellfish, soy, starch, wheat, yeast or pork.
Other interesting facts about turmeric:
Turmeric, the pain-relieving herb, is a perennial plant that belongs to the ginger family. For 4,000 years, turmeric has been used in the traditional medicine of India to help fight infection, reduce inflammation, and to treat digestive and liver problems, skin diseases and wounds.
A popular cooking spice, it is commonly used in making curries. In India, where turmeric is consumed regularly, Alzheimer's rates are 4.4 times lower than in North America.
If you have any questions about turmeric or these product please feel free to email me directly at: nikki@shopalive.ca
Did you know that a percentage of our online sales go towards the Foodbanks of greater Vancouver? You are not only supporting us, but we are also working together to help support those in need.

We hope you will visit us online at:
Do not sit in silence; there are so many things you can do to better your health! Get excited and take charge of your health. Let's work together, along with your doctor/health care professional to ensure you are doing all you can to lead a happy and healthy life. Our team looks forward to helping you with whatever your health concerns are.