Spring is officially here, and we just launched several new Alive Vitamins Supplements, in-store as well as online! New to our Alive Brand is Quercetin with Vitamin C and Zinc, Super Quercetin, Circu-Legs and CleanseLAX. Let's dive into some detail about these unique supplements below:
1- Quercetin + Super Quercetin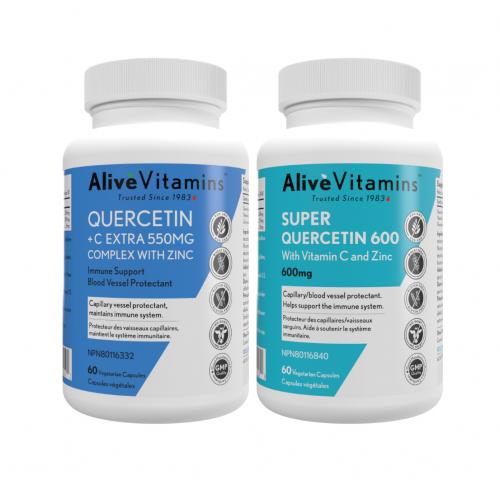 The Alive Vitamins family just got a little bigger, introducing.. Quercetin and Super Quercetin with Vitamin C and Zinc! Quercetin is a plant pigment, (a flavonoid) that is found in many plants and foods, such as red wine, onions, green tea, apples, and berries.
It has antioxidant and anti-inflammatory effects that help to control blood sugar levels, and help prevent heart disease. Although it is commonly used for conditions relating to the heart and blood vessel, it is also used for arthritis, bladder infections, and to help control diabetes.
Both of these new additions are immune system supporting supplements.
Click the following links to purchase Quercetin and Super Quercetin.
2- Circu-Legs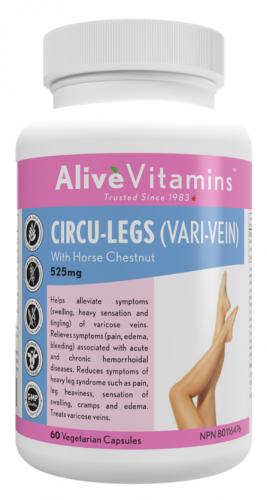 If you are looking for relief from varicose veins, this newest addition to the Alive Vitamins Family is perfect for you! Circu-Legs (Vari-Vein) is non-gmo, wheat and gluten-free and contains no dairy products. It helps to alleviate symptoms of swelling, heavy sensation, and tingling, associated with varicose veins.
It also helps relieve symptoms (pain, edema, bleeding) associated with acute and chronic hemorrhoidal diseases. Also, it helps to reduce symptoms of heavy leg syndrome such as pain, leg heaviness, the sensation of swelling, cramps, and edema.
Circu-Legs is a good treatment for varicose veins.
3– CleanseLAX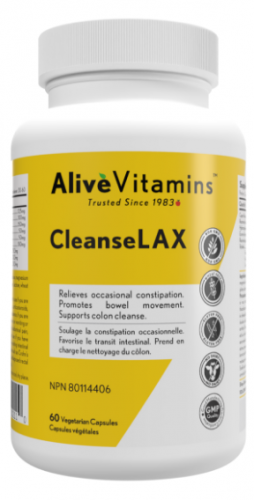 CleansLAX may be the perfect detoxification support product for you.
Relax and enjoy your GO with CleanseLAX! It works to hydrate, stimulate, and then soothe the colon. This formula targets your colon to enhance elimination without the use of harsh laxatives. This non-habit-forming formula (gentle, yet strong) is made with numerous proven effective ingredients like Triphala, Aloe Ferox, and 150mg Magnesiumhydroxide which brings water into the colon, making stools easier to pass. It's fast-acting at stimulating the smooth muscle contraction of the colon. The herbal Marshmallow Root and Slippery Elm Bark are known for their soothing properties. Vegan, Non-GMO, Wheat free, Gluten-free, GMP
CleanseLAX is available in 2 sizes, as a 60 veggie capsule size, and as a BONUS 120+30 veggie capsule size.
We hope that you found some of these new Alive Vitamins supplements as exciting as we do! Don't hesitate to contact us for more information!
Did you know that a percentage of our online sales go towards the Foodbanks of greater Vancouver? You are not only supporting us, but we are also working together to help support those in need.

While we practice social distancing we hope you will visit us online at:
Do not sit in silence; there are so many things you can do to better your health! Get excited and take charge of your health. Let's work together, along with your doctor/health care professional to ensure you are doing all you can to lead a happy and healthy life. Our team looks forward to helping you with whatever your health concerns are.