Chlorella is raved by many nutritionists, doctors and health professionals alike.   Dr. Beth Lay, PhD has written a book on Chlorella,  "Chlorella: The Ultimate Green Food Book" in a nutshell this is her description of Chlorella:
"A freshwater green microalgae power-packed with nutrition, chlorella is dubbed the 'Green Gem of the Orient', deserving of its reputation as the ultimate green food.   As a true whole superfood, chlorella has the tremendous ability to detoxify, energize, nourish and ultimately balance all of the body's systems for optimal function."
There are   many different brands of Chlorella, but why take Sequel Naturals ChlorEssence?
ChlorEssence is a premium brand of Japanese Chlorella, containing more Chlorella Growth Factor, chlorophyll and protein than any other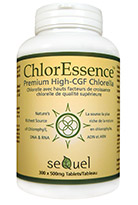 brand.   As Japan's #1 health food, Chlorella is packed with nutrition and proven by extensive studies to detoxify the body, activate the immune system and slow down aging.
Also, one of the most important things to keep in mind when chosing which supplements to take is to know you are taking the highest quality and Sequel Naturals is committed to providing the BEST!
ChlorEssence is a unique patented strain of Chlorella, the result of 35 years of research. Developed for maximum levels of Chlorella Growth Factor (CGF) featuring typical values of 18%-25%, ChlorEssence contains the highest CGF concentrations of any brand of Chlorella.
Grown outdoors in rich, spring-fed freshwater ponds on a pristine subtropical Japanese coral island, ChlorEssence is processed and packaged in state-of-the-art facilities under the strictest of quality standards.
How Much Should You Take?
Sometimes depending on how toxic your body is, you can feel the cleansing symptoms such as: light headed, head aches, foggy and for this reason it is important to start your dosage slowly and then build it up.   Also, depending on the person, some people take more or less.   Here are some examples: For general health maintenance, a daily dose of 2-3 grams is recommended. If it is being taken to relieve specific symptoms, the dosage should be doubled to 4-6 grams. Athletes and individuals who push their bodies to the limit may take 10 grams or more daily; with Chlorella, more IS better!
For MORE information on the BENEFITS of ChlorEssence there is a PDF http://chloressence.com/products/chloressence/chloressence_english.pdf
As always, we hope that you will come and visit us at either Alive Health Centre, Morning Sun or Supplements Plus. Do not sit in silence; there are so many things you can to better your health! Get excited and take charge of your health. Let's work together, along with your doctor to ensure you are doing all you can to lead a happy and healthy life. Our team looks forward to helping you with what ever your health concerns are.