I love green leafy vegetables a lot, but it's not always feasible to prepare a variety of good quality greens year-round, and that's where Moringa Leaf comes in. Moringa is actually one of the most nutrient-dense plants on Earth.. and you can tell by the beautiful rich colour of the leaves.
Here are some interesting facts about Moringa Leaf:
The leaves contain 7 times more vitamin C than oranges and 15 times more potassium than bananas.
Moringa leaf is also known as the miracle tree, the tree of life, and the drumstick tree.
It is packed with calcium, protein, iron, and amino acids, which help your body heal and builds muscle.
It's also packed with antioxidants, substances that can protect cells from damage and may boost your immune system
This superfood has been used as a traditional remedy in phytomedicine and ayurvedic healing for thousands of years.
Inflammation: Although we may initially think of turmeric when we think of plants that help with inflammation.. Moringa leaf has been shown in studies to also combat inflammation! Moringa reduces inflammation by suppressing inflammatory enzymes and proteins in the body.
Hormones: A study published in the Journal of Food and Science Technology found that a combination of moringa leaf powder and amaranth leaf powder for 3 months in postmenopausal women decreased oxidative stress but they also had better fasting blood glucose and increased hemoglobin levels, which could mean more balanced hormones. Moringa has also been shown to improve thyroid health which relates to the hormones in charge of your energy levels, sleep and digestion.
Liver: We know that your liver is the body's natural detoxifier. It filters the blood, detoxifies chemicals, and metabolizes fat—and moringa may help it work better. First off, moringa contains high concentrations of polyphenols to reverse oxidation in the liver, and early research has shown moringa consumption to reduce liver fibrosis and protect against liver damage.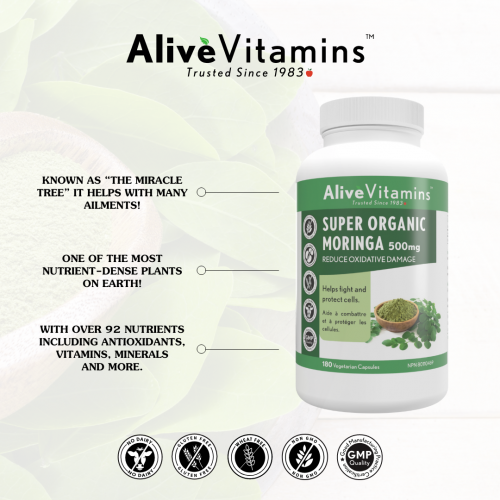 If this blog post has piqued your interest in the countless benefits of Organic Moringa Leaf then do consider checking out our Alive Vitamins Super Organic Moringa Leaf. It is non-gmo, dairy-free, organic, and made in Canada.
We proudly source the best ingredients available,
Made in Canada,
Vegan and vegetarian friendly whenever possible,
Trusted since 1983,
We stand behind our label and accept returns,
All SKUS have an NPN,
What is on the label is on the bottle,
No unnecessary, binder or fillers used,
Purity and potency guaranteed.
Lastly, as a small Canadian business, online sales have helped us keep going. Did you know that a percentage of our online sales go towards the Food banks of greater Vancouver? You are not only supporting us, but we are also working together to help support those in need.

While we practice social distancing we hope you will visit us online at:
Do not sit in silence; there are so many things you can do to better your health! Get excited and take charge of your health. Let's work together, along with your doctor/health care professional to ensure you are doing all you can to lead a happy and healthy life. Our team looks forward to helping you with whatever your health concerns are.