Step 1. Ki Cold & Flu ATTACK
Formula – Fight the virus, relieve symptoms fast and recover QUICKLY!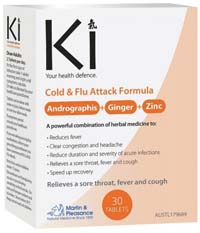 Step 2. Ki Immune Defence
& Energy Formula – Weak Immune System? Prevent Getting SICK Right from
the START!
Step 1.   Can't afford to miss time off work, suffer through exams or travel uncomfortably due to due to an annoying COLD or FLU?   Be dependable this year with Ki Cold & Flu Attack Formula.   It nips symptoms in the bud FAST!!   Take 2 tablets of Ki IMMEDIATELY at the first sign of an infection/ fever until symptoms subside.   Ki's formula consists of Andrographis (KalmColdTM), Fresh Ginger and Zinc. Together this formula will out-smart nasty throat
infections and swollen glands, chest infections, cough and nasal congestion, headaches, earaches, fever and chills.  
Step 2.   Then for a solid recovery build your reserves with 1-2/day of Ki's Immune Defence & Energy Formula on a continuous basis. Stressed immune systems fail us making a large portion of the population CHRONICALLY SICK!   STOP the cycle with Ki's Immune Defence formula as it boosts and modulates immunity, is an energy tonic and supports the cardiovascular and digestion system.   This wonderful formula consists of Astragalus, Shitaki Mushroom and Olive Leaf.   Together this adaptogenic formula helps PREVENT reoccurring infections, the severity of hay fever and sinusitis. Don't take the chance this winter of getting sick!    
As always thank you for reading and we look forward to helping you at a location near you!   Also we do mail orders of there is not a location convenient.   Call us toll free at 1866 499 9546
Additional information on Ki products.