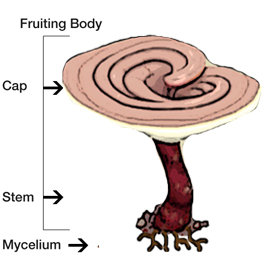 Deal is on now Until October 21st 2020
Bonus Pack * Exclusive to Alive, Morning Sun and Supplements Plus – available at a location near you or online at ShopAlive.ca
This is a bonus pack! It includes 60 + 60 + 20 BONUS = 140 capsules total!
C$254.99  until October 21st 2020
Why Mikei Red Reishi?
With so many natural health remedies out there for building a stronger immune system… why take Red Reishi Mushroom and more importantly, why take the Japanese Mikei Red Reishi? Well, let's start with what is red reishi…
What is it?
Once reserved only for royalty, red reishi was the most sought after medicinal herb in Eastern medicine because of its rarity. Today, practitioners of Traditional Chinese Medicine consider red reishi nature's most powerful and beneficial adaptogen.
What are adaptogens?
Adaptogens are herbs that can increase the body's ability to handle external stressors and restore it to normal physiological functions. No other adaptogenic herb can do this better than red reishi.

Benefits
Traditionally, red reishi was prized as the "herb of longevity" – used to promote calmness, improve meditative practices, and attain a healthy life.
Reported Benefits
Increased energy
Reduced stress
Regulated immune system
Red reishi contains unique compounds such as polysaccharides (beta-glucans), triterpenes (ganoderic acids), and amino acids. Studies have shown these components to have several benefits including, but not limited to:
Immune system support
Stress reduction
Anti-aging, anti-oxidant
Supports liver health
Modulated energy
Cardiovascular health
If you are a history buff, here is how Red Reishi was discovered…
History
Around 2730 BC, a Chinese emperor, Shen Nong, personally tasted and catalogued over 365 plants to create the first book of Traditional Chinese Medicine. For each plant, he evaluated them on the range of illnesses they treated, how effective they were, and the number of side effects they had. One plant in particular "the red reishi mushroom (Ganoderma lucidum)" was classified as the best of the "Superior" plants.
Reishi was depicted in paintings, embroideries, buildings, sculptures, and carvings of the gods and immortals. It was revered as the "herb of longevity" for its ability to improve health conditions without side effects. Now, as modern medicine struggles to mimic the healing powers of natural substances, more and more people are discovering the ancient secrets of red reishi.
With so many types of Reishi, Why Japanese Red Reishi?

Japanese are the foremost experts on reishi growing and were first in the world to commercially cultivate crops of the red mushroom variety–a task considered impossible to achieve for centuries. In 1976, the Mayuzumi family, renowned mushroom growers in Japan, identified and patented the most superior strain of red reishi, and perfected its cultivation and concentration to the exacting standards of the Japan Reishi Association (JRA).
Studies have shown that mycelium and spore-based reishi products do not contain all of the chemical constituents that are found in red reishi. In fact, the most unique and identifiable ingredient, ganoderic acid, can only be found in the fruiting body of mature red reishi. In the history of Traditional Chinese Medicine, mycelium and spores were discarded for extraction.
Like many products on the market, unextracted reishi powder has few results compared to authentic red reishi extract. Unprocessed, ground-up mushroom particles in the reishi are different from its medically active ingredients; the particles do not contribute any benefits and can actually cause an allergic reaction in some people.
Properly extracted red reishi contains the highest levels of medicinal substances in the most bio-available form. With Mikei Red Reishi, the high quality extraction technique is just as important as the stringent growing conditions.

To learn more about Japanese red reishi cultivation, read here.
Exclusive offer from Alive, Morning Sun and Supplements Plus:
Mikei Red Reishi Mushroom Essence 60+60+20 BONUS capsules
This is a bonus pack! It includes 60 + 60 + 20 BONUS = 140 capsules total!
Please note that this is a final sale item. Returns and refunds will not be accepted.
Mikei® Red Reishi Essence, Red Reishi Essence EX and other health food products are brought to you by Japan's foremost reishi growers, the Mayuzumi family.
The Mayuzumi family have been cultivating high grade red reishi mushrooms since 1976. They are renowned in the world for their red reishi cultivation expertise and for their commitment to high quality in all of their health food products.
NPN: 80035167
Ingredients
Red Reishi (Ganoderma lucidum)(fruiting body)
(16.6:1 extract; dry equivalent of 3.3 g/capsule)
200 mg
Non-Medicinal Ingredients: dextrin, pullulan (vegetable capsule*)
* The capsules used are all-natural and suitable for a variety of dietary requirements including vegetarians, diabetics, and those on restricted diets.
This product does not contain soy, gluten, or animal products.
Recommended Use (Adults):
Provides antioxidants.
Used in Herbal Medicine:

to support the immune system;
as a liver tonic;
as an adaptogen to help increase energy and resistance to stress.
Quality
Discover why Mikei® Red Reishi Mushroom Essence is internationally recognized as the number one red reishi product on the market.
Naturally grown in a greenhouse using the Mayuzumis' superior strain
100% free of pesticides and pollutants
Grown for a full year using "natural wood-log" cultivation (read more: Reishi Cultivation)
Harvested at peak maturity to maximize phytonutrient levels
Uses only the fruiting body of fully mature red reishi for extraction
Free of unprocessed mushroom, myceliated rice/grain and other bulk fillers
Hot water processed and concentrated to a refined extract of 16.6:1 ratio (200 mg per capsule)
The JRA hologram on every box of Mikei Red Reishi ensures quality, safety, and efficacy.
We hope that you will come and visit us at either Alive Health Centre, Morning Sun or Supplements Plus near you! Do not sit in silence; there are so many things you can do to better your health! Get excited and take charge of your health. Let's work together, along with your doctor to ensure you are doing all you can to lead a happy and healthy life. Our team looks forward to helping you with whatever your health concerns are.
Lastly, as a small Canadian business, online sales have helped us keep going. Did you know that a percentage of our online sales go towards the Food banks of greater Vancouver? You are not only supporting us, but we are also working together to help support those in need.

While we practice social distancing we hope you will visit us online at:
If you have any questions email me at: shannon@shopalive.ca