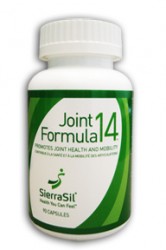 Want a supplement to do more than just ease joint pain?   SierraSil is what you have been waiting for!   This amazing product supplies the body with numerous essential minerals, which are required for thousands of daily biological functions such as:  energy production, cell formation, blood formation and regulation of acid-alkaline balance.   The beauty of SierraSil is it can be used with many complimentary ingredients such as glucosamine and  chondroitin.  For those who  cannot have meat,  SierraSil is also 100%  vegan!  
SierraSil helps the joints by acting as a natural anti-inflammatory.   Over time it builds cartilage, and eases muscle stiffness.   SierraSil  also aids in digestive conditions such as:  leaky gut, IBS, Acid Reflux, and Crohn's Disease!
 Sierra Sil has helped many of our customers at Alive Health Centre, Morning Sun and Supplements Plus.   As many of you know, Sierra Sil helped Shell Busey  and one of the most common ways that people look for Sierra Sil is, "You know the one that Shell Busey  used and  found joint relief?"   There are many others just like him that rave about the product.   So if you have tried just about everything and you still do not have joint pain relief it may be time for Sierra Sil.   Remember its more than just joint relief!   As always we look forward to helping you further, have a great week!