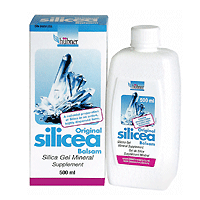 Alive Health Centre, Supplements Plus and Morning Sun employees have expereinced the benefits of Naka products first hand and have also had tremendous positive feedback from our customers!   As for myself, I use Naka's  Original Silicea gel and it has been amazing for my hair, nails and skin.   I also use Alive Brand Vegetal Silica.   Sometimes I am travelling and need a product that does not have to be  refridgerated and the Alive Brand serves this purpose and it is also of excellent quality.  
Naka continues to put out excellent products another one being, Vital  Greens.   Vital Greens is a liquid  instead of powder and it has a mint taste.   Even if you are not excited about the mint flavour, just remember this is such an easy way to get in your daily dose of quality greens.   Some people mix the small dose in water, and some drink the small dose in one shot.    Vital Greens is filled with Chlorophyll and other important ingreedients to  help the body detoxify and energize.   This product is a fabulous alternative  for people who  do not like the taste of powdered greens.   It is also very easy because you do not have to make a shake, just mix in water in the morning and your finished!  
Naka has put out another excellent  Natural Health Newsletter on  a few of their products.    We want to share it with our customers.   Hope you enjoy the  research that has gone into their newsletter.    As always, if  you are interested in any of  Naka's products  Alive Health Centre, Morning Sun and Supplements Plus  are happy to help you  find the Naka product you are  in search of.   Hope to see you  soon and enjoy the newsletter, the link is below!  
Link for Naka Newsletter:    http://www.lholmesassociates.com/newsletters/naka/archive/naka_1003.html