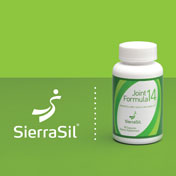 This is a post written by a guest.   I hope you enjoy!   So many of us suffer from joint pain and it does not have to be this way.   Many have found relief with Sierra Sil which is an all natural formula.   Below is the article with testimonials at the end…
In this fast paced world we have become addicted to quick fixes for every problem we face, and our health is no exception. Drugs are often taken to relieve pain without a second thought as to what it is we are putting into our bodies. Disturbingly, these quick treatments do not eliminate the cause of our pain, yet merely mask the problem by temporarily alleviating the discomfort. What is worse is that the more drugs we take, the more we rely on them to get us through each day and night.
Fortunately, there are healthy, natural alternatives to this approach that not only decrease aches and stiffness but also supports joint health and mobility. Our overall health depends on a proper mineral balance to keep our immune system strong and healthy. The lack of specific minerals can create both acute and chronic health problems that often plague us as we age. SierraSil is a unique mineral complex straight from the earth that supports the cessation of or noticeably reduces chronic inflammation.
One of the primary mechanisms of action of the SierraSil mineral complex is its suppression of those genes responsible for triggering and perpetuating chronic inflammation. SierraSil targets and reverses inflammation. This is something that many drugs are unable to do, at best providing relief from pain symptoms, not its cause.
SierraSil is ideal for adults suffering from sore joints, aches or muscle pain. It is designed for seniors seeking improved comfort in daily routines through increased flexibility and mobility.
Here are a couple of SierraSil senior users who describe the relief they have felt:
What can I say. I am in my mid seventies and SierraSil helped my knees within 2 weeks. One month I walk more, sleep better, pain in knees and ankles almost all gone after years of severe joint pain.
Why suffer try SierraSil and you will feel the difference.
I'm 72 years old. A favourite hobby of mine has been working on old cars and trucks, but I had to give it up. I heard about SierraSil on the radio and decided to try it. I am now walking for 40 minutes every day! Initially I was very skeptical SierraSil could help me, but now I am a true believer. All I can say is try it!
We hope that you will come and visit us at either Alive Health Centre, Morning Sun or Supplements Plus. Do not sit in silence; there are so many things you can do to better your health! Get excited and take charge of your health. Let's work together, along with your doctor to ensure you are doing all you can to lead a happy and healthy life. Our team looks forward to helping you with what ever your health concerns are.