Firm, Tighten and Hydrate! We are having a BUNDLE DEAL on our AliveVitamins Super Collagen and Hyaluronic Acid but only for a while longer (June 21, 2022). Take advantage of these big savings, for a limited time!

Shop in-store or online to take advantage of the bundle pricing ($73.99) for 1 bottle of (AliveVitamins) Super Collagen and 1 bottle of Hyaluronic Acid.

Super Collagen:
– Grass-fed, and pasture-raised from France
– "After 2 months, my fine lines reduced. I am 35, it is truly not too early to start. You will be happy you did!" -Shannon

Collagen fibres make up 79% of your skin and are responsible for maintaining its structure, hydration and daily repair to your skin. It also functions as a building block for tendons, joints, connective tissues, and bones. According to the American Academy of Dermatology, skin wrinkle reduction due to loss of elasticity is one of the possible benefits of taking collagen supplements. Collagen maintains the fibrous and elastic structure of bones and joints which enable people to move freely without pain or discomfort. For best results take with Alive HA.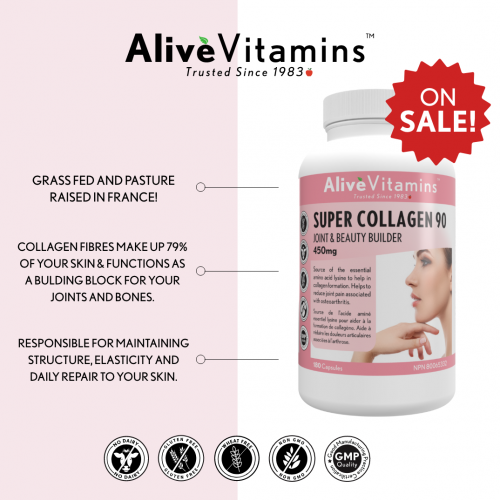 Hyaluronic Acid:
– HA works by acting like a sponge. It holds up to 1000 times its own weight in moisture.
– Erase fine lines by moisturizing and plumping from the inside out, naturally.
Banishing wrinkles is possible by taking HA internally.
Taking HA for three to four months boosts collagen production dramatically. Our customers have noticed firmer skin, smoother skin, improved complexion as well as more youthful looking skin. HA works by acting like a sponge holding up to 1000 times its own weight in moisture. This is what helps to plump the skin and literally erase fine lines and wrinkles.
Speed the healing of injuries and prevent scarring with HA.
It has been shown that HA not only speeds the healing of wounds, but it also will slowly get rid of old scarring. This is especially helpful for people who suffer or who have suffered from acne in the past and now are dealing with the scars and an uneven complexion. Leading researchers have found that taking just 140mg of HA a day shortens the time it takes a wound to heal by 40%! Remember, while HA is a wonderful find, try not to be impatient. For example, it takes on average three months to get rid of old acne scars. Hang in there it is worth the wait. Alice Chung, the owner of Alive Health Centre, has been using HA for years now and everyday people are amazed that she is 74 years old with baby soft skin. Once customers find out her age they furrow their eyebrows and move up closer wanting to see if there is Botox or some sort of cosmetic surgery, and they are always amazed that it's all natural!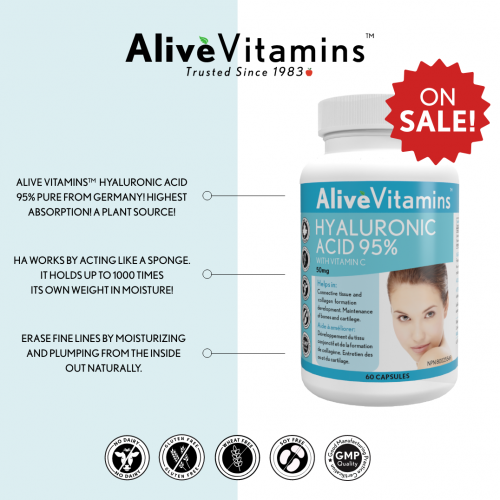 Lastly, as a small Canadian business, online sales have helped us keep going. Did you know that a percentage of our online sales go towards the Foodbanks of greater Vancouver? You are not only supporting us, but we are also working together to help support those in need.

While we practice social distancing we hope you will visit us online at:
Do not sit in silence; there are so many things you can do to better your health! Get excited and take charge of your health. Let's work together, along with your doctor/health care professional to ensure you are doing all you can to lead a happy and healthy life. Our team looks forward to helping you with whatever your health concerns are.