Customer Appreciation Day only comes once a month! Whether you're shopping in-store or online we've got a deal for you! Find a location near you to save up to 20% off, or shop online to save 15% off almost everything! Here are some products that you will find on sale today: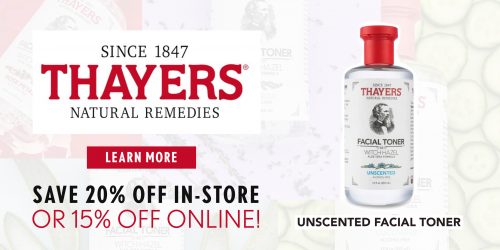 Experience home-grown healing power with THAYERS® Original Astringent. This gentle astringent is derived from a time-honored formula, developed by Thayers to cleanse, tone, moisturize, and balance the pH level of skin. In addition to containing certified organic Aloe Vera, this unique, proprietary blend also contains certified organic, non-distilled Witch Hazel that's grown exclusively for Thayers on a family farm in Fairfield County, Connecticut.
By avoiding distillation of our Witch Hazel, we're able to preserve the naturally-occurring, beneficial tannins, which are known to offer antioxidant and antibacterial benefits, and bring about a natural glow. Thayers elixirs have been a fixture in medicine cabinets for generations – once you use them, you'll know why.
• Paraben-Free
• Phthalate-Free
• Gluten-Free
Alive Vitamins™ NAC (N-Acetyl-L-Cysteine) – 500 mg NEW!

QUEEN OF AMINO ACIDS – NAC is a precursor to glutathione, a critical antioxidant scientifically proven to scavenge free radicals, detoxify the body, reduce inflammation, support mitochondrial function, and keep the whole body looking youthful & running smoothly. NAC has the unique ability to maintain healthy lung tissue, incredibly important after a season of forest fires. These qualities make NAC especially beneficial to the elderly and those exposed to polluted environments.
TESTIMONIAL: "I love using NAC with Alive OPC Grape Seed Extract. I have noticed they've decreased my sunspots, improved my skin elasticity and people notice less wrinkles." Vancouver BC
Lastly, as a small Canadian business, online sales have helped us keep going. Did you know that a percentage of our online sales go towards the Food banks of greater Vancouver? You are not only supporting us, but we are also working together to help support those in need.

While we practice social distancing we hope you will visit us online at: shopalive.ca
Do not sit in silence; there are so many things you can do to better your health! Get excited and take charge of your health. Let's work together, along with your doctor/health care professional to ensure you are doing all you can to lead a happy and healthy life. Our team looks forward to helping you with whatever your health concerns are.