Red Palm Fruit Oil by New Roots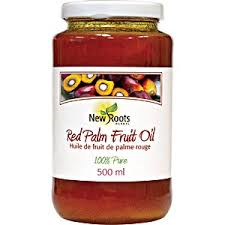 Dr. Oz & Dr. Bryce Wylde TOP Oil of 2013!
Red Palm Fruit Oil is derived from the fruit of the oil palm tree (Elaeis guineensis) and is referred to as "red palm oil" because of its rich dark red color in its unprocessed natural state. Most saturated fats behave like a thick molasses through the cardiovascular system, eventually contributing to plaque (atherosclerosis).  Dr. Bryce Wylde said studies show that adding red palm oil into the diet can actually remove plaque build-up in arteries and  PREVENT blockages. In fact, studies funded by the National Institutes of Health (NIH) have shown that a natural form of vitamin E called alpha tocotrienol, which is the form found in high amounts in red palm fruit oil, can help reduce the effects of stroke by 50% by protecting your brain's nerve cells. Studies also show Red Palm Oil lowered bad cholesterol by 40% in just 1 MONTH!   Dr. Oz even said "Drugs don't even do that!" Wylde discusses how traditional fats and oils like margarine, or other vegetable oils take a long time to break down for energy and are eventually stored as fat in the BELLY, whereas red palm oil goes straight to liver and ignites metabolism, burning calories!!   Just add 2 tbls to your cooking a day and you will be on your way to OPTIMAL health preventing Alzheimer's, Heart Disease and busting your belly FAT!!
We hope that you will come and visit us at either Alive Health Centre, Morning Sun or Supplements Plus. Do not sit in silence; there are so many things you can do to better your health! Get excited and take charge of your health. Let's work together, along with your doctor to ensure you are doing all you can to lead a happy and healthy life. Our team looks forward to helping you with what ever your health concerns are.