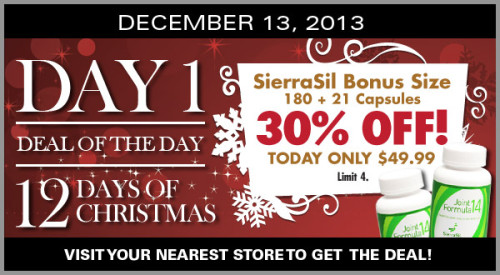 Give the Gift of Health! Don't know what to get for someone you know who is suffering from joint pain?   SierraSil is your answer!!
SierraSil Benefits:
SierraSil ® out of all of the Joint Pain formulas out there, the Vancouver Canucks pick SierraSil ®.   Want a supplement that relieves joint pain but also does so much more? SierraSil is what you have been waiting for! This amazing product supplies the body with numerous essential minerals, which are required for 1000's of daily biological functions: energy production, cell formation, blood formation and regulation of acid-alkaline balance. The beauty of SierraSil is it can be used with many complimentary ingredients such as glucosamine/chondroitin; it is 100% natural and vegan! SierraSil helps the joints by acting as a natural anti-inflammatory, builds cartilage, and eases muscle stiffness. It also aids in digestive conditions: leaky gut, IBS, Acid Reflux, and Crohn's Disease!
As always, we hope that you will come and visit us at either Alive Health Centre, Morning Sun or Supplements Plus. Do not sit in silence; there are so many things you can do to better your health! Get excited and take charge of your health. Let's work together, along with your doctor to ensure you are doing all you can to lead a happy and healthy life. Our team looks forward to helping you with what ever your health concerns are.
Also, if there is not a location near you, we do MAIL ORDERS call us toll free at 1 866 499 9546