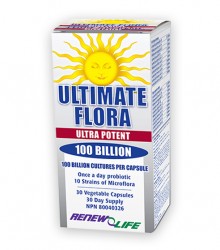 Next to your Multivitamin and Fish Oil, probiotics are right up there on your must have list regarding your supplements!   Renew Life's newest probiotic is their Ultimate Flora Ultra Potent 100 Billion.   An unhealthy gut causes all kinds of health problems so protect yourself with Ultimate Flora Ultra Potent 100 Billion.
Ultimate Flora Ultra Potent 100 Billion Information
Ultimate Flora Ultra Potent is a 100 billion culture, 10 strain probiotic formula designed for those with severe digestive issues, those who have completed multiple rounds of antibiotics or for those who want to have the strongest probiotic available.
Ultimate Flora Ultra Potent contains therapeutic levels of both  Lactobacilli and Bifidobacterium, making it the most complete and  effective probiotic supplement on the market. Each capsule provides  50 billion active cultures of Bifidobacterium and 50 billion active  cultures of Lactobacilli.
Ultimate Flora Probiotics are the only encapsulated probiotic formulas  that can guarantee significant quantities of the probiotics contained will  survive past the harsh, acidic environment of the  stomach and arrive alive in the intestinal  tract. Using a unique, water based  enteric coating, we ensure that the  probiotics are protected, yet still able  to populate in the intestinal tract.
Renew Life carries a number of different probiotic formulas. To verify if Ultimate Flora Ultra Potent is the best formulation for your condition, please view  their Probiotic comparison chart.
The Most POTENT Probiotic!
Ultimate Flora Ultra Potent is the strongest probiotic single dose allowed in Canada delivering 100 billion beneficial bacteria to the digestive tract! It is ideal for people with severe digestive issues, who have been on multiple rounds of antibiotics or are just looking for the most potent probiotic formula available.
All Renew Life Ultimate Flora probiotics are enteric coated to ensure delivery past the stomach acid and the potency is guaranteed at expiry. Every high potency, multi-strain formula is developed with optimal digestive health in mind making them the best probiotics available.
 Testimonial:
Prevented yeast infections
My naturopathic doctor recommended Ultimate Flora Ultra Potent because I was on antibiotics. I had taken probiotics before while taking antibiotics and they hadn't worked to prevent yeast infections (I am VERY prone to yeast issues). She said that the particular type of probiotics in Ultra Potent were chosen because they were not killed by antibiotics. Sure enough I didn't get a yeast infection! I think I will continue on this and see what other great things happen.
We hope that you will come and visit us at either
Alive Health Centre, Morning Sun or Supplements Plus.
Do not sit in silence; there are so many things you can do to better your health!
Get excited
and take charge of your health. Let's work together, along with your doctor to ensure you are doing all you can to lead a happy and healthy life. Our team looks forward to helping you with what ever your health concerns are.