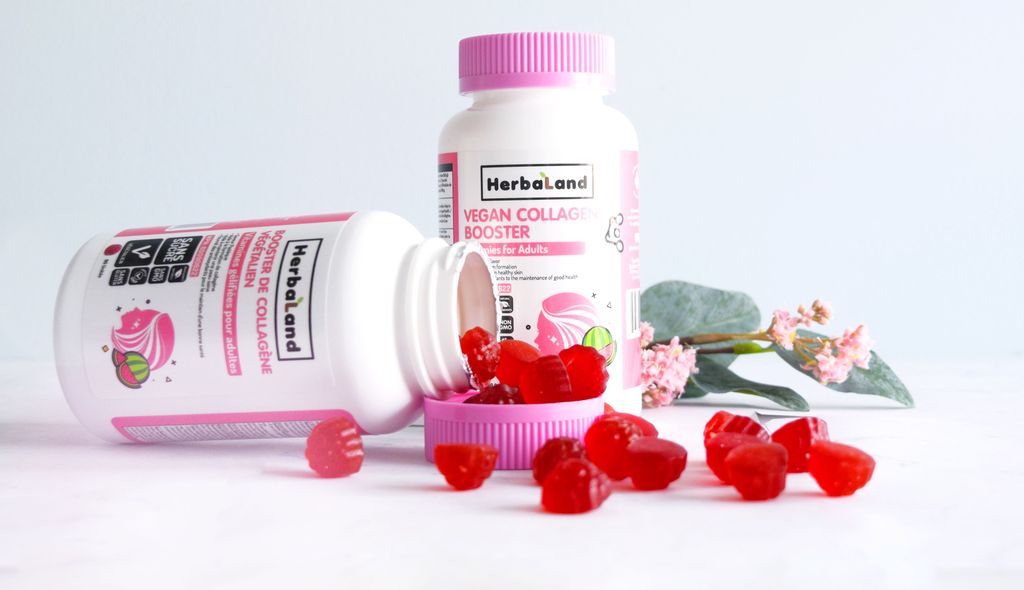 At Alive, Morning Sun and Supplements Plus our customers love Herbaland Vegan Collagen Booster because it is healthy and fun! You will love how convenient and succulent these gummies are. What a great way to boost collagen production! Each gummy is packed with ingredients like Lysine and Vitamin A. It is sugar and gluten free, non GMO. Youthful glowing skin is just a few gummies away. Go ahead and try it for yourself!
Why take collagen?
Collagen is a protein that provides structure and strength in bones, muscles, and skin. This structure-giving property makes it essential for youthful skin. It is important to support the body's production of this 'fountain-of-youth' protein, by fueling its production with vital nutrients.
Vegan Collagen Booster is a fun, convenient, and delicious way to boost collagen production. Each gummy is packed with ingredients like  Amla Fruit, L-Lysine, Vitamin A and Vitamin C  , to support collagen production and the maintenance of good health.
Benefits and Facts of Herbaland Collagen Booster Formula:
Watermelon flavour
90 gummies
Vegan
Sugar-free
Gluten-free
Soy-free
Non-GMO
High Fibre
Fat-free
GMP Certified
Aisha Yang from Herbaland writes more on their Vegan Collagen Booster, which is one of my favourite products of 2019!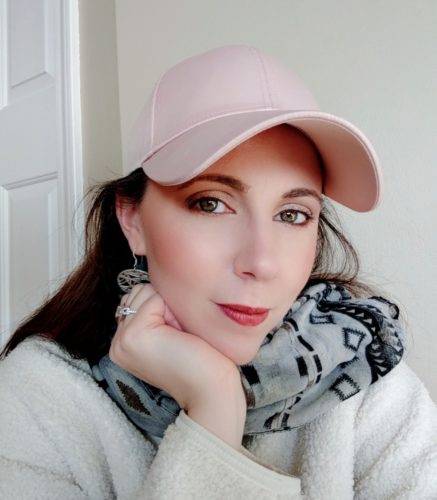 What Ingredients Support Collagen in Herbaland Vegan Collagen Booster?  
Amla fruit, also known as Indian Gooseberry, is an amazing natural fruit. It has been well-regarded in  Ayurvedic traditions for its benefits for hair and skin – such as improving elasticity, strengthening hair, and more!
Modern science  helps to back up this claim: Amla fruit  contains 20x more Vitamin C than an orange – which is a  key component in collagen production. In fact, two observational studies, which typically assess skin health by changes in depth and number of wrinkles, found that higher intakes of vitamin C in the diet were associated with better skin. The studies reported a notable decrease in lines.
Lysine is also a key component to collagen production; it works closely with Vitamin C, which converts it into a form that the body can use to create collagen. And, as an added bonus, lysine is an antioxidant, which helps to reduce inflammation and free radical damage that contribute to ageing.
In clinical research,  Vitamin A  has been shown to stimulate collagen production in the skin, while simultaneously reducing metallaproteinase – which degrades the  body's collagen.
We hope that you will come and visit us at either  Alive Health Centre,  Morning Sun  or  Supplements Plus  near you!
Do not sit in silence; there are so many things you can do to better your health!  Get excited  and take charge of your health. Let's work together, along with your doctor/health care professional to ensure you are doing all you can to lead a happy and healthy life. Our team looks forward to helping you with whatever your health concerns are.