TODAY IS DAY 3 OF 12 DAYS OF CHRISTMAS!  

Just a few hours left to shop online for Alive Vitamins Garcinia Cambogia and Alive Vitamins CLA.   Balance your blood sugar, reduce cravings and burn fat this holiday season.   Don't wait until January to lose weight, start now!
Alive Vitamins  CLA 1000mg – Conjugated Linoleic Acid – 1000 mg
Helps:
Support reduction in fat,
Increase lean muscle mass,
Enhance immunity,
Improves body composition and decreases stored fat.
Conjugated linoleic acids are found mostly in the meat and dairy products. Alive CLA is sourced from safflower oil.   It has been widely used as dietary supplements and overall health support. It supports the breakdown of fat. Also, it is scientifically proven to enhance immunity. In a number of articles, CLA may have a direct effect in reducing the cancer risk. Supplementation of CLA is a safe and natural formula to maintain a good health.
Alive Vitamins  Garcinia Cambogia Extract (GCE) – 500 mg
Carrying excess weight never feels good and it also causes us to struggle with confidence. Often times our motivation to lose weight has to do with our dissatisfaction of our appearance, but more importantly we should be concerned with what it is doing to us internally. Excess weight causes heart problems, cancer and many unpleasant health problems. At Alive we are big advocates of eating healthy and getting moderate physical activity everyday, but sometimes we all need a little help. Alive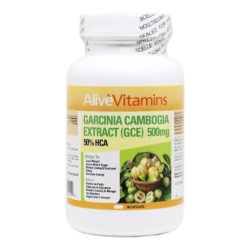 Garcinia Cambogia Extract is a safe way to get you started!