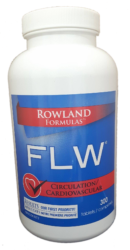 Not sure what to get your parents, friends or family, in general, this Christmas?   Rather than waiting until the last minute, think about your loved one's health and pick up a meaningful gift to help them live their best life.   Think about giving the gift of health this season.   For example, if you know that there is heart disease in your family, consider FLW – an incredible long-standing formula that will help prevent clogged arteries and more!
The FLW formula is a carefully selected combination of 24 ingredients. There is no one "miracle" ingredients in the formula. It is a very special combination of nutrients in the right time tested amounts that enables the body to do its own normalizing. Supplementation with sufficient quantities of a broad spectrum of nutrients can actually stimulate the body's own innate processes to clear away arterial plaque and prevent its return. The formula has been used by tens of thousands of satisfied users.
In his book the Nutritional By Pass By Dr. Rowland lists the key ingredients required to achieve an arterial cleansing effect. He also provides a brief explanation as to what each of the key ingredients accomplishes.
See Formula Below:
FLW ®  Bottled in 300s
Health Function:   Nutritional support for circulation/cardiovascular function.
Each Tablet Provides:
VITAMINS
Vitamin A (palmitate) 4,000 IU
Vitamin E (d-alpha tocopheryl succinate) 65 IU
Vitamin C (ascorbic acid) 320 mg
Vitamin C (calcium ascorbate) 80 mg
Vitamin B-1 (thiamine mononitrate) 20 mg
Vitamin B-2 (riboflavin) 5 mg
Vitamin B-6 (pyridoxine HCl) 15 mg
Vitamin B-12 25 mcg
Niacin 5 mg
Niacinamide 5 mg
Pantothenic Acid 50 mg
Folic Acid 40 mcg
Biotin 10 mcg
LIPOTROPIC FACTORS
Choline (bitartrate) 72.5 mg
Inositol 4 mg
DL-Methionine 24 mg
MINERALS
Magnesium (oxide) 40 mg
Potassium (chloride) 20 mg
Potassium (citrate) 20 mg
Manganese (gluconate) 0.5 mg
Zinc (gluconate) 3 mg
Silicon (dioxide) 2.2 mg
Chromium (proteinate) 20 mcg
Selenium (proteinate) 25 mcg
OTHER INGREDIENTS
L-Cysteine Hydrochloride, Calcium Carbonate, Silica, Betaine Hydrochloride,
Adrenal concentrate, Thymus concentrate, Spleen concentrate, Kelp, Vitamin D-3..
Recommended Use (Adults):   5 – 10 tablets daily, or as directed by a health care practitioner.
We hope that you will come and visit us at either  Alive Health Centre,  Morning Sun  or  Supplements Plus  near you!
Do not sit in silence; there are so many things you can do to better your health!  Get excited  and take charge of your health. Let's work together, along with your doctor/health care professional to ensure you are doing all you can to lead a happy and healthy life. Our team looks forward to helping you with whatever your health concerns are.