Testimonial on Clear 60 Gel   I just want to write to you guys for inventing this fabulous product!   I have been suffering from this dry patch of what I believe is to be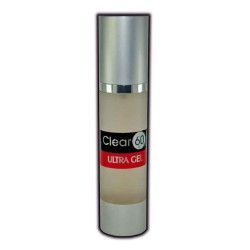 eczema on my hand for about 2 years now and It comes and goes.   I have tried everything from natural products to steroids and to no avail.   I stumbled across the Clear 60 Ultra Gel about 3 weeks ago and at first I was skeptical about it but I purchased it anyways because I was desperate.   Also, the catalogue that came with it seemed pretty promising.   I applied it twice daily and for the first 4 days, there wasn't much improvement besides that the patch was a bit more moistened but the redness was still there.   However, I applied it religiously for about one week and the results blew me away!   I really regretted not taking a before and after photo of the area because I truly thought that it was another gimmick product.. It has been exactly 3 weeks now and I can say that my condition has been cured! I could not ask for a better product. Thank you so much for inventing this.   I just wished that I have discovered this 2 years back instead of wasting money on things that did not help at all. Maggie
Thank you Maggie for sharing this testimonial with us at Alive Health Centre, Morning Sun and Supplements Plus.
Maggie purchased the product at one of the Alive stores.
If there is not a location near you we would love to help you with a mail order. MAIL ORDER: Toll free 1-866-499-9546
We hope that you will come and visit us at either Alive Health Centre, Morning Sun or Supplements Plus. Do not sit in silence; there are so many things you can do to better your health! Get excited and take charge of your health. Let's work together, along with your doctor to ensure you are doing all you can to lead a happy and healthy life. Our team looks forward to helping you with what ever your health concerns are.