FIX Hyper-pigmentation & Skin Tone!
Tired of hiding behind mounds of liquid foundation? You can finally avoid heavy make-up with Racinne!   This product will make you feel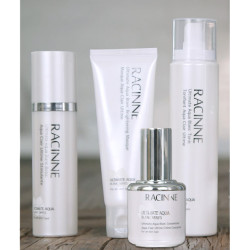 comfortable in your own skin again as it:
Reduces dark spots,
Evens skin tone,
Balances oil production,
Reduces inflammation,
Prevents and minimizes formation of brown spots.
Racinne is loved by Asian skin as it helps to lighten up and even out your skin. Not only does it use the revolutionary "Callus Cultivation Extract Technology" of Lotus that contains anti-inflammatory properties and melanin inhibition, but it also contains 8 other different precious brightening & moisturizing extracts including Niacinamide, Nelumbo Nucifera Flower Extract, Ever Cellwhite, Royal Jelly Extract, Pearl Extract, Aloe Barbadensis Leaf Extract, Moist Keep 24, and Cucumber Extract. Apply morning and evening after cleansing and before your moisturizer.
If there is not a location near you we would love to help you with a mail order. MAIL ORDER: Toll free 1-866-499-9546
We hope that you will come and visit us at either Alive Health Centre, Morning Sun or Supplements Plus. Do not sit in silence; there are so many things you can do to better your health! Get excited and take charge of your health. Let's work together, along with your doctor to ensure you are doing all you can to lead a happy and healthy life. Our team looks forward to helping you with what ever your health concerns are.