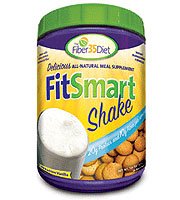 I absolutely love having smoothies in the morning to start off my day with energy and stamina!   Sometimes later in the afternoon if I am hungry wanting a healthy alternative; having a shake is a great way to go.   When I am in a rush I just do the quick water and powder in my little cup and GO!  
Sometimes customers, friends and family tell me they just don't have time to make a protein shake, but really it doesn't take any longer than waiting for your toast!   Just wake up 10 minutes earlier for good measure so you can enjoy your breakfast.    Have your blender handy, have your ingredients handy and if you are famous for letting your fruit go bad, then keep a stash of  bananas and an assortment of berries in your freezer.   This way your fruit is always ready when you are.    
So this morning I  really enjoyed getting out my "Kitchen Aid" blender and this is the fantastic shake I made that I would like to share with you!
Recipe:
2 scoops of Renew Life Fit SMART (20 grams of protein, 10 grams of FIBRE!) I get the Vanilla flavour because it is the most versatile.
Organic strawberries (However many you want)
Organic banana (1/2)
Organic coconut milk 125ml
Water 125ml
Walnuts
Organic Flax Meal (1 tablespoon)
Barlean's Vegan Omega Swirl 3-6-9 amazing stuff!! (1 tablespoon)
BLEND it up!
Tips:
Always blend up your frozen fruits and solids first with the liquid.
Put your protein powder in last just for a few seconds on stir mode, this is better for the protein and will not destroy it.
Keep fruit in the freezer so it doesn't go bad on you.
Berries are the BEST type of fruit to use in your smoothie because they are the richest in antioxidants!   Blueberries are Dr. Oz's favourite…
As always, thank you for reading, and I hope you enjoy the shake!   If you want more tips we look forward to you coming to a location near you!   Also, you can  look forward to more recipe ideas for protein shakes.   Have a great week everyone.  
Also, if there is not a location near you, we do MAIL ORDERS.   You can call us toll free at 1866 499 9546.