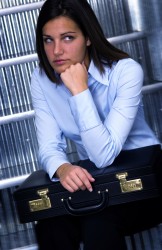 Does this sound familiar?
Bloating of the abdomen

Breast tenderness

Cramps

Cravings for certain foods

Depression

Difficulty concentrating

Fatigue

Headaches

Tension and irritability

Acne breakouts
The above are some of the symptoms that most women experience every month.   Some women do not experience everything listed above, but even having one of the symptoms can create havoc.    Women often wonder why all of these terrible symptoms happen to us each and every month?  There are reasons for them, but there are also ways that you can help yourself deal with these symptoms.   Having your period does not have to be a painful experience.
The reason women have these symptoms is as a result of the different hormones being secreted during the woman's menstrual cycle which usually consists of 28 days.   When a woman's hormones get out of balance it is referred to as, "Hormone Havoc."   Lorna Vanderhaeghe, who is one of the leaders in women's natural health, wrote one of the most thorough books on women's hormone health along with the well respected Dr. Pettle and it is entitled, "Sexy Hormones."   She explains that one of the reasons why many women become estrogen dominant stems from our environment.   Things like our detergents, medications, and stress can create estrogen dominance.   Some of the symptoms of estrogen dominance are: acne, depression, irritability, loss of sex drive, period irregularity, weight gain and basically PMS.   Along with a proper diet and exercise, one of the solutions is to take a supplement called EstroSmart put out by Lorna.   It is extremely safe with no side effects.   Many women are thrilled to have their skin back and no PMS symptoms after waiting a few cycles while taking the product.   Her formula consists of the following: I3C, D-Glucarate, decaffeinated green tea extract, curcumin, milk thistle, sulforaphane, rosemary and lycopene.   The recommended dosage is two capsules twice daily.
The other extremely important supplements to consider are your healthy omega-6 oils such as evening primrose, and borage oil.   These oils help reduce cramps, mood, as well as breast tenderness.   Another supplement is calcium magnesium.   It is not only important for your bone health and heart health, but they also help prevent cramping.   A safe herb called vitex is also extremely helpful for easing cramping.
What about your diet?   Cut down on the caffeine for starters.   Coffee lovers will be disappointed to know that caffeine triggers a rise in estrogen which greatly contributes to your symptoms of PMS.   Lorna among other health experts discuss that a thickened uterine lining is caused by too much estrogen with low levels of progesterone and this is often the root of heavy periods.   One way to cut down on coffee is to drink green tea.   It is filled with antioxidants and will enhance your mental acuity for the whole day.   Also, be wary of cold drinks roughly one week before you menstruate.   Traditional Chinese Herbalists are always instructing their patients to eat warm foods and drinks to prevent severe cramping.
PMS is never going to be a breeze, and there is much more to it than I have discussed.   Again if you have any more questions, feel free to contact me or visit me at Alive Health Centre in Oakridge mall.