Many of us need to save money where ever we can. Alive keeps this in mind and we try to pass on the savings to our customers where ever possible, while still maintaining excellent customer service! One of the comments we repeatedly hear is: "Thank you so much for really taking the time to explain the supplements to me." We realize that putting something into your body is an important decision to undertake. Therefore, we take it seriously as well and take the time to explain what you need to take and what it will do for you.
So how can you save at Alive Health Centre?
 
1. Bottle recycling! Be good to your environment; we know you recycle at home, but when you bring in your empty vitamin bottle and purchase the same product we deduct a dollar off of your purchase or 50 cents if the product is under $10.00. Keep in mind that it is a one to one ratio and you buy the same type of product i.e. calcium for calcium or vitamin C for vitamin C etc.
2. Volume discounts when you buy your vitamins!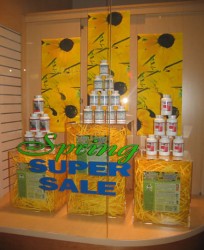 Buy 6 get one FREE
Buy 2-5 get 10% OFF (white sticker)
Buy 2-5 get 5% OFF (red sticker)
*There are some exceptions with volume buying*
3. Coupons! We have the coupons cut out and ready at the till so you do not have to remember to bring them in. People thank us all the time for having them ready.
4. Alive Flyer Sales! We have flyer sales three times a year! We are famous for our fantastic deals while still offering volume buying. They take place in the fall, winter and spring so watch for the colourful flyer in your local newspaper.
If you have more questions on how to save at Alive, you can find the store closest to you on our store locator page and give us a call, or drop in!   Hope to see you soon!