Many people are in search of a natural masque that will help dry up pimples, rinse away backheads and shrink enlarged pores.   The company Queen Helene has a very nice  product called: "The Original Mint Julep Masque." You do not have to have acne in order to use this product.   You can have perfect skin and use it for therapeutic purposes.   It is a very refreshing way to pamper yourself.   It cleanses the skin by removing toxins and things you cannot see.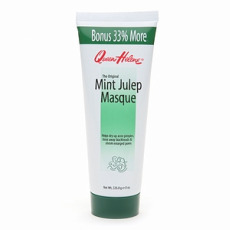 How do you use it?   It is very easy to use and there is no mess!   You do not have to fuss trying to mix anything.   First,cleanse your face and neck thoroughly.   If you want to you can  gently exfoliate.   Then you apply the masque generously and allow it to dry for about 15 minutes.   Lastly, remove the masque with warm water.   Do it gently, if you rub it off with a face cloth you can open up your pimples or irritate your skin.   Afterwards your  skin will feel  refreshed and healthy!   Make sure you put some  moisture back into your face, especially if you have sensitive skin.   I recommend Aqualin because it does not clogg your pores.   Most people use this once a week so they do not dry out there face.   You need balance!
What is in it? Water, kaolin, bentonite (which is a clay), glycerin, zinc, propylene glycol, sulfur, chromium oxide greens, mint fragrance, phenoxyethanol, and methylparaben. There is a small amount of parabens because they have to preserve the product.   However, there is very little, most of it consists of the good stuff like bentonite!  
The Mint Julep Masque is extremely popular in the natural health scene.   It is a fantastic way to pamper yourself with out spending a lot of money.   It retails for under $10.00 for an 8 oz tube and it goes a long way!   So kick up and relax and make it apart of your weekly ritual!   As always you can find me at the Oakridge location, but all of the Alive staff are eager to help you with any skin care concerns.   Hope to see you soon!