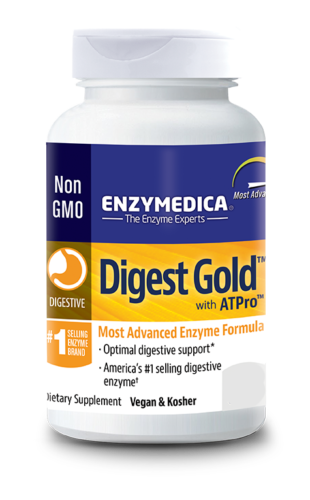 Enzymes often get overlooked and we forget that gut health is everything. Poor eating habbits are the obvious culprits of gas and bloating, but stress can do it too.
If you are suffering after most meals, you may need an enzyme and Digest Gold by Enzymedica is America's #1 Selling Enzyme Blend because of the great results. If you are eating well and taking supplements, but are still not seeing positive results, this is also a sign that you may benefit from taking an enzyme. It is worth taking that extra step to maximize the effectiveness the nutrients you consume. You are what you eat BUT only if you are absorbing all the benefits. Also did you know that hair loss, and other conditions like poor skin is often associated with malnutrition? Sometimes customers will come to our Wellness Associates and say that they have been taking protein and silica but their nails are still weak and their hair is still thin? They are wondering why? Often when we add a good enzyme this does the trick and really helps the absorption of all the supplements they are taking. Hopefully this health tip helps! Give it a try and let us know, but first check out the product benefits below..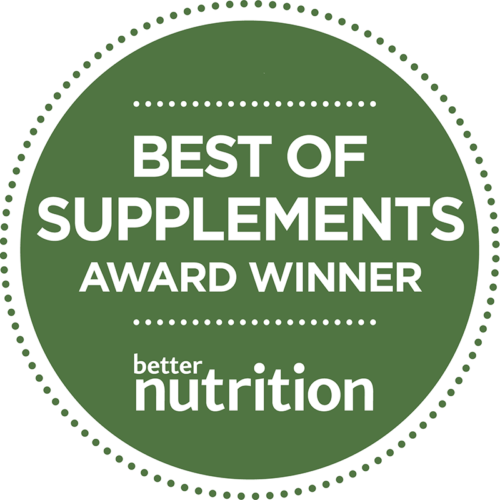 Benefits
Breaks down fat, fiber, protein & carbs*
Speeds up digestion*
Boosts energy*
Reduces occasional gas, bloating & indigestion*
Quality
Vegan
Dairy Free
Gluten Free
GMO Free
Soy Free
Clean Label Project
Pure & Potent Digestive Enzyme Supplement*
Digest Gold™ is America's #1 selling enzyme blend.
Naturally relieves uncomfortable digestive issues associated with enzyme and nutritional deficiencies.*
Tired of digestive distress every time you eat? Our award-winning, complex blend of 14 superior plant and fungal based enzymes is specially formulated to help relieve occasional uncomfortable digestive issues so you can enjoy meals without a second thought.*
Powered by Thera-blend™ Technology
Thera-blend™ is a proprietary process developed by Enzymedica that synergistically combines multiple enzyme strains to work across acidic, neutral and alkaline pH levels for superior results.*
Our unique formulation has been shown to be 3x stronger–and break down and absorb nutrients 6x faster–than leading digestive supplements!*
Infused with ATPro™ for Improved Digestion and Energy*

Digest Gold™ is enhanced with ATPro™â€"an advanced formula of ATP, magnesium citrate, phytase and CoQ10–to promote normal digestion and increase natural energy.*
It contains a massive 300,000,000 LCUs of ATP (a critical energy-producing molecule needed to move nutrients between cells) per capsule. Digest Gold™ users frequently report feeling more awake and energized after supplementing!*
Lastly, as a small Canadian business, online sales have helped us keep going. Did you know that a percentage of our online sales go towards the Food banks of greater Vancouver? You are not only supporting us, but we are also working together to help support those in need.

While we practice social distancing we hope you will visit us online at:
If you have any questions email me at: shannon@shopalive.ca
Do not sit in silence; there are so many things you can do to better your health! Get excited and take charge of your health. Let's work together, along with your doctor/health care professional to ensure you are doing all you can to lead a happy and healthy life. Our team looks forward to helping you with whatever your health concerns are.