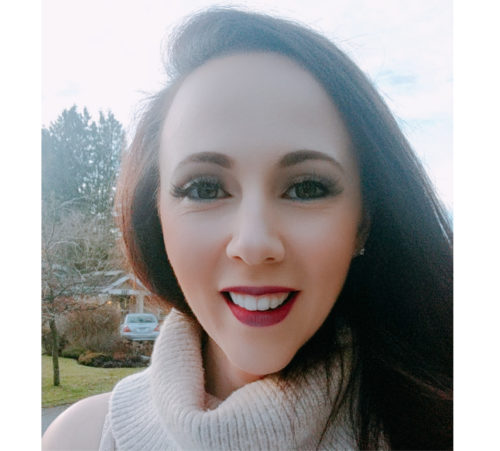 For me, skincare is a positive as well as stress-relieving experience. BUT this was not always the case. I used to really not like my skin and I wouldn't even realize that I was picking on myself. Before I was in the natural health industry, I couldn't hear the narrative I was playing inside my own head. I put a label on my skin and would find every flaw (redness, large pores, dark circles) and it would be the exception for me to say something that I liked about my own skin. Does this sound familiar?
When you think about it, this is really not a good thing because you start the day and end the day in front of a mirror. You brush your teeth and wash your face and I bet you do not even realize what you tell yourself… So before you continue reading, try to make a promise to yourself that you will be kinder to the skin you are in.
At the same time, yes, I realize that we all have goals and there is nothing wrong with wanting to improve ourselves or our health (as healthy skin is a sign of good health). Of course, if we struggle with acne, dry skin, or oily skin, we naturally want to help improve our skin if we can. I do encourage you to set some goals, but I want to try and shift the mindset to a more inspiring tone rather than a tone of labeling your skin as "problematic skin". Instead of solely focusing on the issues, make sure you tell yourself morning and night something that you like about yourself too.
Next, skincare can be overwhelming as everyone has a recommendation and there is always a new flavour of the week. There is a lot of marketing when it comes to skincare and it can be very expensive! Therefore, before I share my favourite skincare products, I would like to preface with this:
What works for me may not work for you. If you have questions feel free to ask them! That's what we are here for. We would rather you get the right product for you than buy even more things that you do not need.
Everything I am recommending I have used for 10 years. I wanted to mention this because products come and go in the skincare world, but the products I have recommended are my die-hards.
These products have been around a long time and we are able to carry them because they are natural and work well for many people.
I have sensitive skin. I have fair skin and I do have to be careful with what I use so, if you tend to break out or react to skincare products, these are very clean and maybe just what you are looking for.
1st step to healthy skin is from within:
Healthy skin starts from within. I mention this because I want to be clear that just like weight management, it takes being in tune with what you consume.
Try to eat right and yes exercise not only helps with healthy weight management, but it is also very good for your skin.
Supplements such as NutraCleanse, Alive HA, Alive Grapeseed Extract and Collagen supplements also greatly help the skin.
If you really are wanting to improve your skin, start looking at your diet and replace some of the inflammatory or highly processed foods with more leafy greens, fibre and foods that are more alkaline.
Speaking about Alkaline, the Santevia Water Pitcher is an excellent source of good quality water. Not only is alkaline water great for keeping dehydration and therefore premature wrinkles away, but Santevia filters also ensure you are getting calcium and magnesium through your water.
I bet right about now you are thinking, "Next she is going to tell me to cut out sugar! Gurr!" I am not an all or nothing person, the 80/20 rule is the way to go. Do try to cut out some refined sugars, but if you need something sweet go for some Manuka Honey in your tea. Or nibble on some Smartsweets.
Time for skincare product recommendations!
Finally! Here Are My Recommendations!
Viva Amaze Gel – Exfoliation is key. Slough off the dead skin at least once a week. If you have sensitive skin you do need to be wary. If your skin is hardier and you want to try to lessen blackheads or uneven textured skin, you can most definitely use this product 2 to 3 times a week.
Squalene Oil – This is not just 5% or 10%, this is 100% pure squalene oil. It is what Alice Chung, owner of the Alive Group, uses. It is amazing for your neck. It is a thinner viscosity and it does really minimize fine lines. If you have dry skin this is an absolute must.
Aqualin – Alice, who is 73, got me using this 10 years ago. It is pure glycerin and you use a pea-size droplet and mix it in water. Then you apply it all over your face and neck. Let it air dry. The packaging is not riveting, and it doesn't have the appeal, but looks can be deceiving. It leaves your skin baby soft. Give it a good go and try using it for a few weeks before you make up your mind.
Viva Hyaluronic Acid – I love to use this morning and night as well. This is a serum and again goes all over the face and neck. My tip with this is… if you want to wear foundation and you find it looks cakey I highly recommend that you mix a few drops of this with your foundation and then apply. It leaves your skin looking natural and glowy. Less dry and cakey. Very nice for those summer dewy makeup looks.
Thank you for reading and before you sign off, I hope there has been some helpful tips and I also hope that some of the products I have recommended end up helping you start and end your day with joy. I want to make sure I emphasize one notion…
When you look in the mirror, tell yourself what you like about your skin. Focus on the positives and try not to pick yourself apart. We are so quick to be our own worst critic and say: " I have dry skin, oily skin, uneven skin tone, fine lines, wrinkles or problem skin." From now on, I hope your skincare regime is a joy.
Lastly, as a small Canadian business, online sales have helped us keep going. Did you know that a percentage of our online sales go towards the Food banks of greater Vancouver? You are not only supporting us, but we are also working together to help support those in need.

While we practice social distancing we hope you will visit us online at:
If you have any questions email me at: shannon@shopalive.ca
Do not sit in silence; there are so many things you can do to better your health! Get excited and take charge of your health. Let's work together, along with your doctor/health care professional to ensure you are doing all you can to lead a happy and healthy life. Our team looks forward to helping you with whatever your health concerns are.