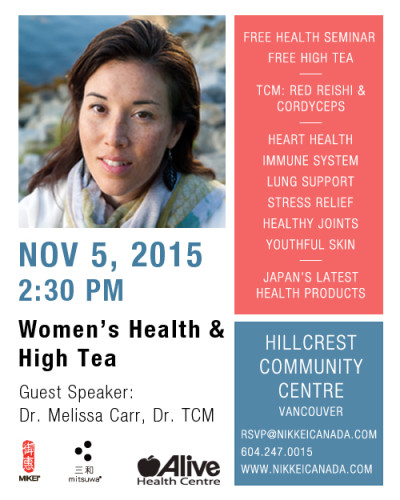 FREE SEMINAR
Women's Health & High Tea with Dr. Melissa Carr, Dr.TCM Hosted by the distributor of Mikei ® Red Reishi and Mitsuwa ® Collagen Pure, join us for high tea with Dr. Melissa Carr to learn the importance of disease prevention using Traditional Chinese Medicine's most powerful herbs, red reishi and cordyceps. We'll also cover the benefits of collagen and will showcase the latest health products from Japan.
BONUS: Door prizes and a chance to win one of 10 tickets to the Vancouver Health Show!
This talk will cover:
ï'· An overview of Traditional Chinese Medicine
ï'· How red reishi and cordyceps can be used for women's health issues.
ï'· The importance of collagen for maintaining healthy joints, shiny hair, and glowing skin.
When: Thursday, November 5th, 2015
2:30 pm
Where: Hillcrest Community Centre, Arts and Crafts Room
4575 Clancy Loranger Way
Vancouver, BC
Cost: FREE! Complimentary high tea will be provided.
RSVP: rsvp@nikkeicanada.com, 604-247-0015, or sign up on www.nikkeicanada.com to reserve a spot. First come first serve. Space is limited. Dr. Melissa Carr is a registered Doctor of Traditional Chinese Medicine with a B.Sc. in Kinesiology. In practice since 2001, Dr. Carr has a passion for sharing health information. She has been a nutrition instructor and a health consultant, lecturer, and writer for 24 Hours Vancouver newspaper, Fraser Health Authority, UBC, and the David Suzuki Foundation, amongst others. www.activetcm.com
As always, we hope that you will come and visit us at either Alive Health Centre, Morning Sun or Supplements Plus. Do not sit in silence; there are so many things you can do to better your health! Get excited and take charge of your health. Let's work together, along with your doctor to ensure you are doing all you can to lead a happy and healthy life. Our team looks forward to helping you with what ever your health concerns are.
Also, if there is not a location near you, we do MAIL ORDERS call us toll free at 1 866 499 9546