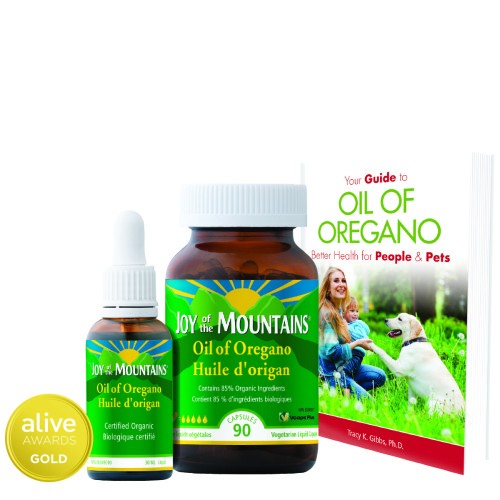 Joy of the Mountains Oil Of Oregano is in our FALL 2015 flyer now.   Sale is effective until October 21st 2015.   Read Below to learn more!
Beats Superbugs! Conquers Insect Bites!
Joy of the Mountains has built a reputation for the highest quality Organic Wild Mediterranean Oregano Oil, containing naturally high levels of the active ingredient Carvacrol (75-85%). At a time when superbugs are spreading through our communities and hospitals have become hotbeds for drug-resistant infections.  The need for safe and effective alternatives for treating bacterial and viral infections has never been greater.   Oil of oregano outperforms all others when tested against today's most virulent germs. Did you know that oregano oil has proven to be more effective than leading antibiotics? BENEFITS:
Prevents colds & flu's from starting,
Fights fungal, bacterial, viral & parasitic infections,
Relieves symptoms of cough, congestion & nausea,
Relieves inflammation when applied topically.
Joy of the Mountains is Voted #1 Immune Product, Alive Awards 2014. Lastly… Too HOT To Handle? No problem, now comes in liquid vcaps, but with the same great benefits of the liquid!
Purchase any size bottle and get a free copy of "Your Guide to Oil of Oregano" (one per customer).
Price: $34.99             Size: 90 Vcaps
Price: $16.99             Size 15 ml
Price: $26.99             Size 30ml
As always, we hope that you will come and visit us at either Alive Health Centre, Morning Sun or Supplements Plus. Do not sit in silence; there are so many things you can do to better your health! Get excited and take charge of your health. Let's work together, along with your doctor to ensure you are doing all you can to lead a happy and healthy life. Our team looks forward to helping you with what ever your health concerns are.
Also, if there is not a location near you, we do MAIL ORDERS call us toll free at 1 866 499 9546