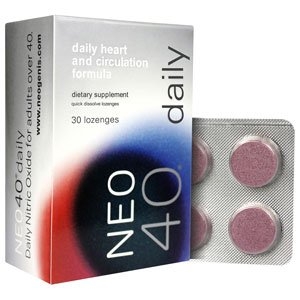 Neo40 is a custom formula that helps to naturally restore and replenish your body's nitric oxide levels. Neo40 helps relax arterial walls and support healthy circulation. Healthy circulation is associated with numerous health benefits. A healthy heart and good circulation helps support healthy blood pressure and cholesterol levels. Good circulation also determines your endurance and stamina during exercise and sex.
What is it exactly?
Proprietary Nitric Oxide Blend (beet root powder, hawthorn berry extract, L-citruline, sodium nitrate), Vitamin B12 (1000 mcg), Vitamin C (100 mg). Other ingredient include mannitol, modified cellulose, xylitol, natural flavors, magnesium vegetable stearate, stevia, silica, natural carmine flavor.  
Dosage:
Take 1 lozenge 1-2 times daily, at least 12 hours apart. Place 1 lozenge on your tongue, dissolve or chew, and swallow. Do not place under tongue or swallow whole. Hydrate before and after taking to avoid mouth sensitivity. Do not exceed 2 lozenges in a 24 hour time period.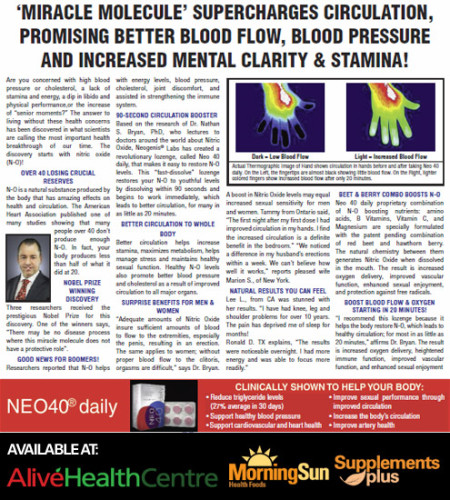 This custom formula helps naturaly increase prodution of nitric oxide. Consult your health care professional if you are taking (1) nitrate medications like nitroglycerin or isosorbide dinitrate, (2) erectile dysfunction drugs since the combination may cause an unsafe drop in blood pressure, or (3) "blood thinner" medications.
If there is not a location near you we would love to help you with a mail order. MAIL ORDER: Toll free 1-866-499-9546
We hope that you will come and visit us at either Alive Health Centre, Morning Sun or Supplements Plus. Do not sit in silence; there are so many things you can do to better your health! Get excited and take charge of your health. Let's work together, along with your doctor to ensure you are doing all you can to lead a happy and healthy life. Our team looks forward to helping you with what ever your health concerns are.