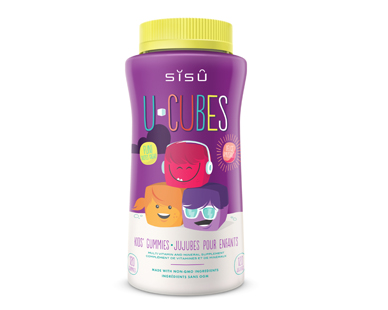 Kids are back to school and they have everything they need… but wait what about their nutrients!   I know as a parent I try to give my kids the best nutrition possible through their food.   We garden as well so they know where their food comes from.   Sometimes it is a battle to find that balance of making food fun, something they will like as well as healthy.   They know that healthy tastes good and feels good, but sometimes we cannot always get the freshest veges, or the BEST wholefood options and for the best performance in school we all know that consistency is key!   Therefore incorporating a quality multivitamin is paramount for top performance in school.   There are also other important nutrients such as Kids DHA by Alive Vitamins and Flora BEAR Probiotics by Renew Life.   For now we will focus on U-Cubes TM by Sisu.
Why choose Sisu U-Cubes?
SISU U-CubesTM gummies provide the important vitamins and minerals children need daily, in a formula specially designed for kids. Other gummies are often made with animal gelatin, high-fructose corn syrup, and artificial colours and preservatives – but not SISU U-CubesTM. Sisu stands behind giving your kids the best: pectin-based, naturally-flavoured multi vitamin and mineral to help bridge nutritional gaps and provide extra nutrients for growing bodies and minds.
Product Information
Daily vitamin and mineral supplement in a chewy gummy
Pectin-based cubes
Kids' favourite flavours in each bottle: grape, cherry, and orange
Naturally sweetened with sugarcane juice and tapioca syrup
Natural vegetable colours: maqui berry, black carrot, and turmeric
Frosted with GMO-free tapioca sugar crystals
SISU Advantages
Made with non-GMO ingredients
All-natural flavours, sweeteners, and colours
Free of beef or pork gelatin
No high-fructose corn syrup
Kid-friendly, lightweight, plant-based bottle
Tested for guaranteed purity and potency
In Summary:
Despite our best attempts, children's diets can experience nutritional gaps. Fruits, veggies, proteins, good fats…are all elements we strive to provide but can be a challenge to deliver. Supplementing a child's diet with a high-quality, pure and safe multivitamin will help you provide your kids with the essential building blocks of a fully complemented diet.
If there is not a location near you we would love to help you with a mail order. MAIL ORDER: Toll free 1-866-499-9546
We hope that you will come and visit us at either Alive Health Centre, Morning Sun or Supplements Plus. Do not sit in silence; there are so many things you can do to better your health! Get excited and take charge of your health. Let's work together, along with your doctor to ensure you are doing all you can to lead a happy and healthy life. Our team looks forward to helping you with what ever your health concerns are.