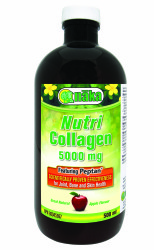 New formula with Peptan, scientifically prov ­en to ease joint pain & inflammation, support bone density and skin/hair/nail health. Do you suffer from joint disorders such as:
• Arthritis,
• Osteoporosis,
• Herniated Disc,
• Tendonitis and Bursitis?
Peptan ® Hydrolyzed Collagen has been scientifically proven to enhance overall joint mobility by stimulating osteoblasts (bone formation cells), restoring bone mineral density, and increasing both bone size and firmness. It can also be combined with calcium and vitamin D to offer full comprehensive benefits. Furthermore, it contains a synergisttic blend of essential and non-essential amino ­acids to aid in protein synthesis.
More Nutri Collagen Information
We hope that you will come and visit us at either Alive Health Centre, Morning Sun or Supplements Plus. Do not sit in silence; there are so many things you can do to better your health! Get excited and take charge of your health. Let's work together, along with your doctor to ensure you are doing all you can to lead a happy and healthy life. Our team looks forward to helping you with what ever your health concerns are.