Are you tired of unsightly varicose veins? Spider Veins or Hemorrhoids?   Don't let varicose veins or other blood vessel problems hold you back.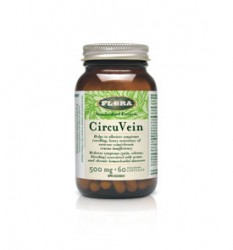 Everyday we hear from customers that they do not want to wear shorts, or aside from the way the veins look, it is pulsing, throbbing and causing major discomfort.
Flora's CircuVein is clinically proven to reduce the appearance of varicose and spider veins within just 2 months! The first product of its kind, CircuVein alleviates symptoms of varicose veins, and repairs and strengthens blood vessels. This clinically-proven formula also relieves symptoms of hemorrhoids.
NPN Claims
Helps to alleviate symptoms (swelling, heavy sensation) of varicose veins / chronic venous insufficiency.
Relieves symptoms (pain, edema, bleeding) associated with acute and chronic hemorrhoidal diseases.
Features
Acts as an antioxidant and supports veins by reducing inflammation
Protects and tones vascular blood vessels to prevent leakage, swelling and heaviness
Promotes healthy circulation for blood vessels
Relieves symptoms (pain, edema, bleeding) associated with acute and chronic hemorrhoid diseases
Formulated for optimum absorption
Safe for long term use
Vegan
Gluten-free
We hope that you will come and visit us at either Alive Health Centre, Morning Sun or Supplements Plus. Do not sit in silence; there are so many things you can do to better your health! Get excited and take charge of your health. Let's work together, along with your doctor to ensure you are doing all you can to lead a happy and healthy life. Our team looks forward to helping you with what ever your health concerns are.