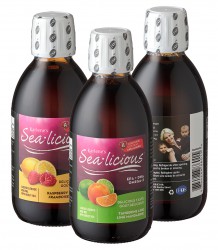 LOVE the FLAVOUR, LIVE the BENEFITS
Being healthy never tasted sooo good!!   SeaLiciousâ"¢ is a MUST for every member of your family as Omega-3's are HEALTHY fats that are the building blocks of health.   UNHEALTHY fats lead to low energy, dry skin, brittle nails, thinning hair, achy joints and an increase of many common health issues. SeaLiciousâ"¢ ADVANTAGES: 1). Contains ASTA-GUARD (astaxanthins), one of the most powerful antioxidants available today. It's over 130x more potent than vitamin C and gives SeaLiciousâ"¢ its unique red colour. Antioxidant to fish oil are as essential as water is to life! Antioxidants help to protect oil from light, air and heat…providing the freshest most delicious omega's available! 2). Surpasses IFOS fish oil testing ensuring safety, purity and quality.   3). Pharmaceutical grade triglycerides oil ensures freshness and stability. 4). Contains sunflower phospholipids to increase absorption of omega's. 5). Just 1 teaspoon is equivalent to 5 softgels! SeaLiciousâ"¢ Omega 3's are the key to smart kids, healthy hormones, flexible joints, beautiful skin and healthy hearts!
We hope that you will come and visit us at either Alive Health Centre, Morning Sun or Supplements Plus. Do not sit in silence; there are so many things you can do to better your health! Get excited and take charge of your health. Let's work together, along with your doctor to ensure you are doing all you can to lead a happy and healthy life. Our team looks forward to helping you with what ever your health concerns are.