Friday March 9th at 8:20am Lorna Vanderhaeghe will appear on Breakfast Television Vancouver discussing Menopause.
Did you know? 50% of women in Canada are in menopause or post menopause this year!
Lorna Vanderhaeghe products related to symptoms of Menopause: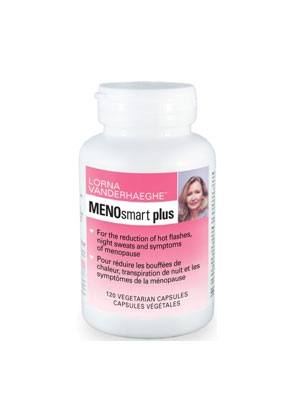 – Menosmart Plus
– Sleepsmart
– Sexsmart and LOVE personal lubricant
– Celadrin Cream
– Collagen Plus
Symptoms
Hot flashes and night sweats are the symptoms most people think about, but there are more….
Common, but less known symptoms at Menopause:
Mental: Mood swings, panic attacks and anxiety and depression can become a major problem for some women
Joints: Menopausal Arthritis and Fibromyalgia are also common at menopause
Low or no Libido: No sex drive and loss of libido – A University of Chicago study found that 43% of women surveyed reported sexual problems
Sleep problems: Insomnia is a serious side effect of menopause that can cause elevated blood pressure
Skin: Skin thickens and becomes dull as women go through Menopause
As always, we hope that you will come and visit us at either Alive Health Centre, Morning Sun or Supplements Plus. Do not sit in silence; there are so many things you can do to better your health! Get excited and take charge of your health. Let's work together, along with your doctor to ensure you are doing all you can to lead a happy and healthy life. Our team looks forward to helping you with what ever your health concerns are.
Also, if there is not a location near you, we do mail orders call us toll free at 1 866 499 9546