Vega Whole Meal Replacement is NEW and Improved.   It was already a top notch product, but by staying true to their roots, Sequel Naturals is never afraid to build on their foundation.   Brendan Brazier is always on top of the health curve providing you with the best ingredients to help nourish the body!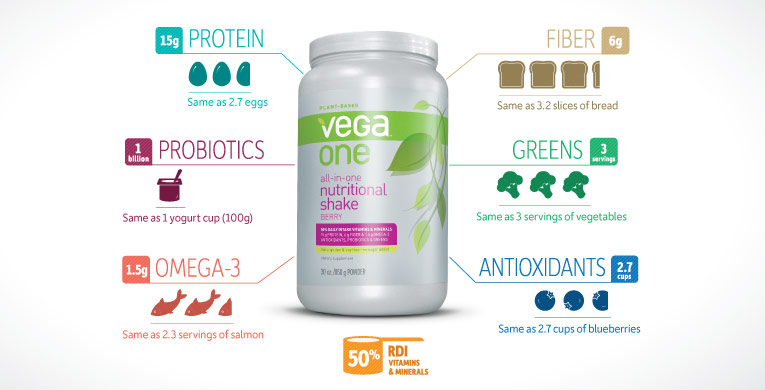 What is New about VEGA All in One Nutritional Shake?
Superior nutritional profile
A one-scoop complete serving
Better digestibility
Improved taste and texture
Highlights On VEGA One Nutritionals Profile:
1000 ORAC Antioxidant Blend: they created an all-new super-fruit blend featuring maqui, acai, goji and other berries to give you a broader range of phytonutrients with over 2 times more antioxidants per scoop.
Green Blend:  they broadened the spectrum of greens by adding chlorophyll-rich, nutrient-dense superfoods such as kale, broccoli, spinach and alfalfa, along with chlorella, to boost the nutritional profile of Vega One with 20% more greens per scoop (for a total of three full servings of veggies per scoop!)
Protein:  they boosted  their complete protein blend with SaviSeed protein, greatly increasing the tryptophan content (an essential amino acid). Vega One now boasts 15% more protein per scoop.
Omega-3 (and Fiber!): we added white chia—renowned for its Omega-3 content—to bump our Omega-3s per scoop up by 20%. Chia is also one of the best-quality sources of fiber, rounding out the fiber profile of Vega One nicely.
One of the Biggest concerns in the past was the taste!   It was never the best tasting stuff, but no question the quality and nutrition was there.   This is what they have to say regarding the improvements of the TASTE!
Improved Taste and Texture:
Good-for-You Can Taste Good, Too: Beloved as it was for its nutritional profile, the number one complaint about Health Optimizer we heard loud and clear over the years was how (not so delicious) it tasted. Our research was resounding proof that the next generation of Health Optimizer needed a taste overhaul. Even some of our most loyal Vega fans admit to blending Health Optimizer into smoothies—just to make it palatable. Vega One offers premium nutrition AND great taste in the same scoop, but it can also be blended for those adventurous consumers
Ingredients Impact Flavor: After tasting every ingredient in Health Optimizer individually, we discovered a few elements that stood out in all the worst (tasting) ways. We replaced some vitamins and minerals in our blend with more expensive, neutral-tasting sources.
On-the-go Portability: Delivering exceptional nutritional value on-the-go has been one of the cornerstones of Vega formulation. Our research told us the taste of Health Optimizer was a barrier to the very portability it was designed for—Vega One is so delicious mixed with water alone, you'll never have to sacrifice taste for travel again.
Why Keep Taking VEGA?   Because their roots are still the same…
Good for your body and the planet, Vega One Nutritional Shake is the clean, plant-based choice to fuel your healthy, active lifestyle—without compromise. Made from natural, whole food ingredients, Vega One is a convenient, all-in-one supplement, packed with:
50% daily intake of vitamins and minerals
15 g protein
6 g fibre
1.5 g Omega-3
Antioxidants
Probiotics
Greens
Formulated by Brendan Brazier, professional Ironman triathlete and bestselling author on performance nutrition, Vega One is still  free from dairy, gluten and soy, and contains no added sugar, artificial flavours, colours or sweeteners.
Available in Berry, Chocolate, Vanilla Chai and Natural flavour
As always, we hope that you will come and visit us at either Alive Health Centre, Morning Sun or Supplements Plus. Do not sit in silence; there are so many things you can do to better your health! Get excited and take charge of your health. Let's work together, along with your doctor to ensure you are doing all you can to lead a happy and healthy life. Our team looks forward to helping you with what ever your health concerns are.