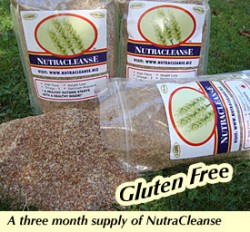 At Alive Health Centre, Morning Sun and Supplements we see a lot of people struggling to find some regularity in their life.   When I say "regularity" I am referring to bowel movements.   Almost half of North Americans are constipated!!   I often joke with our customers that perhaps one of the main reasons people are so up tight and have road rage or short tempers is due to constipation.   We have all experienced constipation from time to time and it is not a pleasant feeling.   With constipation comes: worry, stress, poor digestion, toxifying your body, discomfort and  lastly colon cancer.
So what can you do about it?
Digestion and issues such as constipation are not a simple matter.   We often talk to people for awhile to see if they need probiotics (Renew Life's Ultimate Flora), a cleanse (Renew Life Cleanses) or other things to move their sluggish colon along.   BUT one thing is for sure, almost EVERYONE (especially in North America) can benefit from consuming more fibre in their diet and you can do this by simply eating 1/3 of a cup of Nutracleanse every morning! Nutracleanse is filled with ground flax seeds (omega 3), psyllium husk fibre, and a blend of 3 herbs.
Other benefits of Nutracleanse:
Optimum regularity
Cleansing and detoxification of colon
Improved digestion and absorption of nutrients by the body
Prevention of hemorrhoids
Lower cholesterol
Lower blood pressure
Assists in rebuilding of skin cells and cartilage
Increased energy and vitality
Maintenance of healthy body weight
Laxatives: NOT the long term solution:
Laxatives are not the sole answer.   Many people become dependant on them as your large intestine and colon become lazy.   Therefore, for a long term solution the healthy way is through getting an adequate amount of fibre in your diet everyday.   Also, be sure to drink pleanty of water.   Other things to help lubricate the colon are: fish oil, borage oil or flax oil. Other things you can combine with your Nutracleanse that are extremely healthy are probiotics (your good bacteria). Then for good measure doing a cleanse every six months will have you in extremely good shape.   With this recipe you are looking at a healthy happy colon.
Some Recipes:
OATMEAL WITH NUTRACLEANSE:
Add 1/3 cup oatmeal and 1/3 cup NutraCleanse to             1 cup cold water in pot with dash of salt. Heat to             boiling, stirring frequently. Turn heat down and             simmer for 5 minutes, stirring occasionally. Empty             into bowl, cool for a few minutes, and serve with honey & milk. Enjoy!
NUTRACLEANSE SMOOTHIE: High fiber recipe drink!
Add to blender:
1 ripe banana
1/2 orange
1 slice mango or papaya
1 egg
3/4 cup orange juice
3/4 cup unsweetened soy milk
1/3 cup NutraCleanse
Put lid on blender and set speed to 'high' for 30 seconds. Enjoy!
ON THE ROAD? AWAY FROM HOME? TRY THIS!
Mix 1/3 cup into 1 cup of orange juice and drink it before it starts to thicken.             (Best within 30-40 seconds) While this doesn't replace a nice warm breakfast, it is ideal for             travelers.
As always thank you for reading and we look forward to helping you with what ever you health concerns are.   Remember a healthy gut or digestion is number one.   If you are regular, everything else falls into place.   We look forward to helping you at a location near you!
Also don't forget, we do MAIL ORDERS all over the world.   Call us toll FREE 1866-499-9546