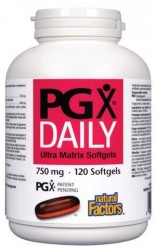 Dr. Oz talked about PGX by Natural Factors this past Monday.   At Alive Health Centre, Morning Sun and Supplements Plus we have been carrying this product since the beginning!   This is just a very short article to remind our customers and people in search of this product that it is available and our staff are there to help you further with any questions you may have.   We have had many people inquiring since Monday's show so if you have any further questions or there is not a location near you,
Please call us toll free at:
1 866 499 9546
We are happy to do mail orders and answer any questions you may have.
Just quick reminders of what PGX does.   Basically it is extremely nutritious.   It is a high concentration of fibre blends.   It contains both insoluble and soluble fibres.   As Dr. Oz says, the average woman in North America only gets 12 grams of fibre per day, but as most health experts say, it is recommended to have 30 to 35 grams of fibre per day.   Fibre is your veges, hearty breads, flax, psyllium husks and foods we most often do not like to eat.   There is no excuse anymore since PGX is there to help make sure you get it into your daily routine.  
Benefits:
Healthy Weight Loss
Balances Blood Sugar
Helps with the feeling of fullness, so we don't over eat!
Great for your colon health
Helps lower the lousy cholesterol LDL
and much more….
There are no side effects, you just have to make sure you drink water throughout the day, which is something that we all should be doing anyway!   Soluble fibre acts like a sponge and if you don't drink enough water you lose the moisture in your colon making it hard to have a bowel movement.   This is often why people think they should avoid fibre altogether, when really, its the opposite, people need fibre to have a healthy digestive system.   The key is water!
As always, we look forward to helping you with what ever your health concerns are.   Hope you enjoyed the article!