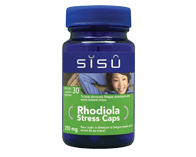 What more can I say about stress?   It is everywhere, it is unfortunately one of the most common concerns that our customers have and it is one of those things that you can't necessarily see, but it is there causing many illnesses today such as: cancer, cardiovascular disease and even diabetes.  
Let's get straight to the herb Rhodiola by Sisu.   One of the reasons this product may be right for you is that it is one herb, one ingredient for stress that has been shown through numerous studies to be one of the most effective herbs when dealing with stress.   Many people who deal with stress, often have upset stomachs  and for those that have sensitivities taking one ingredient is a great way to still get the relief from stress without having too many herbs/vitamins and combinations of things.
What is the Herb Rhodiola?
Studies show the herb Rhodiola to be effective within 30 minutes of ingesting!   Rhodiola roseais an adaptogen — a substance that helps body systems return to normal function during and after stress. Rhodiola's benefits:   improve work performance, alleviate sleep difficulties, stimulates poor appetite, helps overcome irritability, regulates high blood pressure, relieves headache and reduces anxiety in the face of severe physical and mental strain.   Rhodiola, it is meant to be taken in mild cases for every day stresses as well.   For example, a study that used cadets (separated in two groups) found the group who took rhodiola performed significantly better despite severe fatigue than did the placebo group.  
Product Information: Sisu Rhodiola
High-potency rhodiola extract, grown in Siberia and standardized to contain 3% rosavins and 1% salidrosides (the active compounds)
Rhodiola is an adaptogen, meaning it normalizes production of certain hormones within the nervous system to invigorate a sluggish system or calm an agitated one
Rhodiola is clinically proven to improve general well-being, decrease mental fatigue, and improve mental and physical performance during periods of work-related stress
Rhodiola has also shown positive results in cases of mild to moderate depression
No jitteriness, drowsiness, post supplementation "crash", or any such side effects were reported in the human research
Specific Benefits of Taking Sisu Rhodiola
High-potency, fast-dissolving vegetarian capsules
Contains no ingredients that are a source of gluten
Contains no corn, soy, dairy, wheat or peanuts
Suitable for vegans
Good Manufacturing Practices standards
Tested for guaranteed purity and potency
Tested for pesticides and herbicides
EN approved
Lastly, don't underestimate the impact STRESS has on your Life!   Trouble with stress is you can't see it, so we ignore it… this is not a good idea since stress is the SILENT KILLER that is linked to the diseases we fear: cancer, mental disorders and heart disease!    As always, we thank you for reading and we look forward to seeing you at a location near you!  
Also we do mail orders if you prefer, call 1866 499 9546