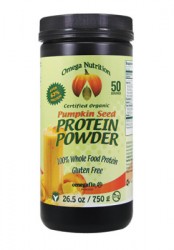 Looking for an alternative to Whey Protein Powder?
We get many curious customers looking for other sources of protein.   Many people are  aware of  Pea Protein, Hemp Protein, but did you know about Pumpkin Seed protein powder?   Omega Nutrition makes an excellent Pumpkin Seed Protein Powder that is tasty, mixes well and will provide you with an excellent source of protein.
Just to back up, why is protein important?
Builds your lean muscle
Keep your resting metabolic rate higher, therefore burning calories
Great for maintaining a healthy weight, or even supporting weight loss
Protein protects and repairs your muscle,
Remember  muscle burns fat!
Also helps you with your energy levels
Why do people want an alternative to Whey and what can Pumpkin Seed Protein Powder by Omega Nutrition Offer YOU?
Vegetarian as well as Vegan protein source
Certified Organic and Kosher
NO soy, NO gluten, NO dairy!! Excellent for sensitive people
Contains 18 Amino Acids!!
Also the value is amazing, you get 50 servings, in one container which is 750g!
Excellent in recipes: banana bread recipes (See below)
Mixes hot or cold, can be added to cereals, or made in smoothies
Pumpkin Seed Powder Facts:
Is a natural source of vitamins, minerals and amino acids.
Contain plant sterols (which are phytochemicals that may contribute to lowering cholesterol).   Plant sterols also directly benefit male and female reproductive health.
Helps maintain tissues necessary for sustaining growth.
Colour is pale green.
Tastes nutty.
Seeds are processed at a low temperature and are not exposed to light, heat or oxygen during the grinding process.   It is a very clean well made product.
Pumpkin seeds  are great for prostate maintenance.
They help keep your bladder healthy.
They work as a hormone balance.
They are Anti-parasitic.
They are rich in phosphorus, magnesium and manganese and is also a good source of other minerals including zinc, iron and copper.
Lastly, Pumpkin Seeds  are also a rich source of omega-6 EFA and omega-9.


Omega Nutrition Pumpkin Protein Powder Banana Bread Recipe
Cooking time: 45-60 minutes
Ingredients:
In a food processor blend:
1 cup brown sugar
1/2 cup butter (or substitute coconut oil)
1/2 cup Omega Coconut Oil
3 very ripe bananas
2 eggs (or substitute 2 tbsp Omega Hi-lignan Nutri Flax powder with 6 tbsps water)
3/4 cup milk (rice milk or almond milk)
In a bowl prepare:
2 cups whole wheat flour (or other flour)
1 cup Pumpkin Seed Protein Powder
1 tsp baking soda
1/2 tsp baking powder
Directions:
Preheat Oven to 325 degrees F. Combine wet with dry ingredients, stir until mixed. Fold into a bread pan. Bread is finished when a toothpick in the center comes out clean.
As always, thank you for reading.   Hope you enjoyed the post!   Also if you have any more questions with any health concern please feel free to contact us at a location near you!