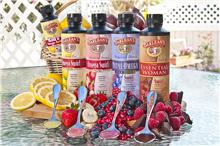 What are Barlean's Omega Swirls and How are they Different?
Omega Swirls look and taste like a fruit smoothie, yet provides optimal levels of Omega-3 EPA/DHA to bring you vibrant health and energy!
In a clinical study conducted by The Centre for Nutritional Studies, Barlean's Omega Swirl was found to be 90% more bio-available than standard fish oil, with the total percentage of oil that reached the bloodstream 10-times greater with Omega Swirl than the same dose of fish oil. Because Barlean's proprietary Swirl technology significantly reduces the size of fish and flax oil molecules, it allows the oil to more efficiently pass through the intestinal wall and into the bloodstream. Theoretically, it could take up to 20 standard fish oil gel caps to equal the amount of Omega-3 from just a two tsp. dose of Omega Swirl!
Alive Health Centre, Morning Sun and Supplements Plus Carry the following Omega Swirls:
Omega Swirl
Omega-3 Fish Oil Supplement LEMON
EPA/DHA: 720 mgs Per Serving!
Made with Barlean's Fresh Catch ® Fish Oil
Purity Guaranteed – Ultra Purified
Delicious, All Natural Fruit Flavors – Sweetened with Xylitol
Freshest, Best Tasting & Most Nutritious Naturally!
Available in 8, 12 and 16 oz.
Omega Swirl
Omega–3 Flax Oil Supplement STRAWBERRY BANANA
An Excellent Source of Omega-3s – 2,620 Per Serving!
Made with 100% Organic, cold pressed Flax Oil
100% Vegetarian
Delicious, All Natural Fruit Flavors – Sweetened with Xylitol
Freshest, Best Tasting & Most Nutritious Naturally!
Available in 8, 12 and 16 oz.
Total Omega Vegan Swirl POMERGRANATE / BLUEBERRY
Complete and Balanced Vegan Omega Nutrition
Delicious All – Natural Pomegranate/Blueberry Flavor
Made with Organic Flaxseed Oil
Pure Borage Oil
100% Vegetarian Plant-Based DHA
Available in 8, 12 and 16 oz.
The Essential Woman Swirl – CHOCOLATE RASPBERRY
Beauty and Balance from Within Never Tasted so Good
Created to nurture, nourish and moisturize from the inside out
Ideal for women interested in radiant health, beauty and energy
Delicious All-Natural Rich Chocolate Raspberry Flavor – Made with Real Chocolate
Contains vital and essential Omega-3, 6 and 9 fatty acids and gamma-linolenic acid (GLA)
Made with Organic Evening Primrose Oil and Organic Flaxseed Oil
Contains Lignans and Rosemary
Available in 8, 12 and 16 oz.
Kid's Omega Swirl – LEMON
An Omega-3 That Tastes Like Dessert!
New Kid's Omega Swirl is an Omega-3 Sensation with the taste and texture of a fruit smoothie! It's the most delicious way to provide your children with the benefits of vital and essential Omega-3s. Kids love the smoothie texture and yummy lemonade flavor.
One 8 oz. bottle contains 45 servings!
Barlean's Commitment to Sustainable Fishing
Barlean's has always been committed to sustainable fishing practices. Since 1972,  they have been catching local fish using reef netting, a century old Native American way of harvesting salmon. It is the most unique and ecological method of harvesting wild salmon, allowing the release of untargeted species and other marine life without harm. Currently Barlean's is among only 11 license holders in the world, and considered by Washington State to be a model of sustainable fishing.
When  they decided to enter the fish oil market,  they made a commitment to bring  their local level of responsibility to a global level. Certain species of fish are endangered, and specific oceans are, in fact, over-fished.  They are committed to do whatever  they can to ensure the health of these ecosystems for generations to come.
Fish Oil
Barlean's Fresh Catch Fish Oil is sourced from the Pacific Ocean off the coast of Peru, and comes only from small body fish (anchovies and sardines). The crude oil is actually a byproduct of fish meal production, an industry that is highly regulated and has been wellmanaged for more than 50 years. Less than 10% of the crude fish oil is processed and used for human and pet consumption.
Cod Liver Oil
Barlean's Cod Liver Oil is sourced locally in Norway, from the straits between the Lofoten Islands. Here we fish for the Arctic Cod, which is often confused with the Atlantic Cod, a species that is in decline. Arctic Cod populations, on the other hand, are healthy, and harvesting is managed on a quota system.
Alive and chains have had Barleans for a little while now and they are truly a clean fish oil that has the added benefit of tasting good!   If you have been recommended to take a fish oil, but you always avoid it due to the taste come on in and try a swirl!   As always thank you for reading and we will see you soon at a location near you.