Did you know that whales feeding on phytoplankton are known to live up to 150 years?   This is remarkable and is often what we as humans  try to achieve.   It is one thing to   live a long life, but more importantly a long life with quality years!   The key is to do the best you can in all areas of your life: eating raw and organic when possible, exercising, keeping active, removing  unnecessary stress from your life, and lastly, taking a supplement packed with phytonutrients like  UMAC CORE  to ensure optimal health!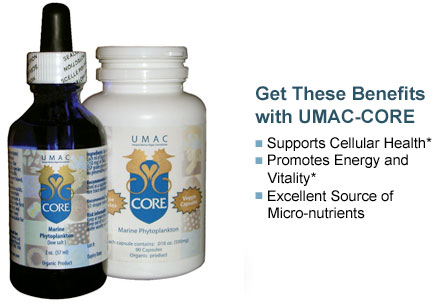 The  most microscopic nutrients are often the most powerful and this is the case with UMAC CORE; tiny in size, but mighty in strength and sustaining life!   If you are from British Columbia it is interesting to know that the  phytonutrients  in UMAC CORE  are right outside your back door!   They come from the ocean  surrounding Vancouver Island.    So what is UMAC CORE exactly?    UMAC CORE is a nutrient dense whole food providing a wide spectrum of essential  vitamins, minerals, amino acids (protein) and rare trace minerals  and it  is the foundation of nutrition for all marine plants and animals! It is amazing  to think that the  oceans of our world have sustained life right from the beginning of time through photosynthesis.    
While UMAC CORE  is useful for improving everyday life, it is capable of doing much more than this.   It is so powerful that it helps to support cellular health.   This means that quality nutrients at the celluar level can help communication and guard us against diseases and toxins.   With excellent cellular communication comes optimal metabolic function.   UMAC CORE  has been so powerful that is has helped many fight cancer.   Remember that one thing alone cannot stop cancer, but working with a combination of approaches can be most beneficial.   Therefore, adding UMAC CORE which has no side effects means you have nothing to loose.   Below is a fabulous testimonial:
Tom Harper did research to extract and harvest the  phytoplankton (marine algae) naturally from the ocean.   He  recreated the phytoplanktons bloom in large tanks.   He noticed that the  clams  feeding on the phytoplankton were doing extremely well and he decided to start  consuming the rich  nutrients from the marine algae.   Harper had nothing to loose as he knew he had a rare form of lung cancer, which was both inoperable and incurable.   He was given just 9 months to live.   Today his cancer is benign and all eleven sites for biopsy were done and  ALL were clear!   Also, by  making lifestyle changes, healthy eating habits and continuing to eat the marine algae Harper  had been a diabetic and no longer needs insulin.  
We  cannot control fate, but we can do everything we can to live a prosperous and  healthy life.   Ultimately, we have the choice to eat a diet rich in deep coloured vegetables, or full of preservatives and empty nutrition.   Let's get going and help each   other reach our potential with regards to our individual health!    As always we look forward to seeing you soon.