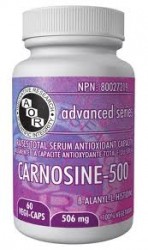 Beat the BBQ with  L-Carnosine!   Recently Dr. Oz talked about L-Carnosine on his show.   Here is what he had to say:
Although they're delicious, grilling protein-packed chicken, omega-3 rich fish, or the occasional piece of red meat can be harmful to your body. Cooking meat quickly at high temperatures releases chemicals known as advanced glycation end products or AGEs. These AGEs promote oxidative stress and cellular inflammation, leading to premature wrinkles and, over time, even heart disease and Alzheimer's.
To combat the AGEs released while grilling, try taking a L-carnosine supplement. Carnosine, which occurs naturally in our bodies, contains potent antioxidant activity to block the effects of AGEs. Natural carnosine levels, however, have been shown to decrease by 63% between ages 10 and 70. So it's important to supplement your levels by taking 500 mg of L-carnosine twice per day, available for around $40 in health food stores.
Dr. OZ is all about FIGHTING Ageing.   He  wants us to still be able to enjoy our summer fun such as with the BBQ, but he is always looking for a more healthy way of enjoying life!
AOR L- Carnosine One of the Most EXCITING Anti-AGEING Nutrients of 2011!
Dr. Oz recently talked about L-Carnosine, but why take it?  Anti-Aging, Supports normal cell growth, Supports healthy cellular function and even useful in sports nutrition.   What is this wonderful nutrient and where does it come from? Carnosine is a simple dipeptide (that is, two amino acids joined together – in this case, beta-alanine and histidine).  Carnosine is made by many cells in your body – and especially in muscle, heart, and brain cells. Longer-lived animals tend to have more Carnosine in their cells than do shorter-lived species, and preliminary research suggests that levels of Carnosine decline with aging (by 63% between the ages of 10 and 70 in humans).   Carnosine is here to help preserve your quality of life!
As always, we hope that you will come and visit us at either Alive Health Centre, Morning Sun or Supplements Plus. Do not sit in silence; there are so many things you can do to better your health! Get excited and take charge of your health. Let's work together, along with your doctor to ensure you are doing all you can to lead a happy and healthy life. Our team looks forward to helping you with what ever your health concerns are.
Also, if there is not a location near you, we do MAIL ORDERS call us toll free at 1 866 499 9546