My daughter Danica is almost one years old!   It has been a blast, but I think any parent will agree that teething is not the best part of watching them grow.   It is so hard to watch our little ones go through the pain of teething and we cannot remember what it felt like, but we can only imagine that it is uncomfortable.   The discomfort from teething happens when the tooth is trying to break through the gum which may be weeks before it actually appears.   This article will hopefully find you well when it comes to the battle of teething.
One of my favourite products is by Boiron Camilia: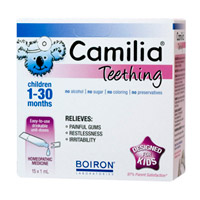 Teething: Painful gums, restlessness and irritability
Camilia ® relieves symptoms of teething.
Developed specifically for babies and toddlers aged 1 to 30 months, Camilia ® is made with sterile water and contains no sugar, no colouring and no preservatives.
Camilia ® is neutral-tasting and comes packaged in sterile, drinkable and unbreakable unit-doses, making it an easy-to-administer, and fast-acting way of soothing teething woes. With Camilia ®, your baby will be smiling again in no time – and so will you!
Symptoms of Teething:
Your baby tells you they are teething by drooling more than usual.   If you are changing their bips more than their diapers you know they are teething!   Another sign is when they frantically chew on their hands, toys and even feet!   Teething often leads to crankiness, fussiness, a runny nose, trouble feeding, trouble sleeping and often they just want to be held.
Dosage:
Administer one drinkable unit-dose. If symptoms persist, repeat at 15-minute intervals for up to 2 additional doses. Generally symptoms resolve with 1 to 3 doses. To administer a unit dose, twist cap to open and squeeze entire contents into mouth. Repeat dosing regimen as required with subsequent episodes of symptoms. Maximum 12 doses per day.
Other TIPS To Help Your Baby Get Through Teething:
Give your baby a clean wash cloth that is dipped in cold water to chew on.
Put their teething ring in the fridge, but make sure it is not too cold before giving it to them.   Never put it in the freezer.
Be careful with teething biscuits because they often contain sugar and they do not sooth as well as we think because they dissolve so quickly.
As always, we hope that you will come and visit us at either Alive Health Centre, Morning Sun or Supplements Plus. Do not sit in silence; there are so many things you can do to better your health! Get excited and take charge of your health. Let's work together, along with your doctor to ensure you are doing all you can to lead a happy and healthy life. Our team looks forward to helping you with what ever your health concerns are.
Also, if there is not a location near you, we do MAIL ORDERS call us toll free at 1 866 499 9546