Platinum Naturals were always a  proud sponcer of Ashleigh McIvor, and now with her grand achievment of of Gold and her appreciative statement that "she could not have been better prepared" below is an article of what the Canadian Sponsor Platinum Naturals has to say: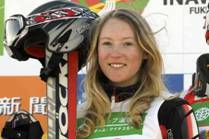 Richmond Hill, February 24, 2010, World champion Ashleigh McIvor representing Team Canada at the 2010 Winter Olympics makes Canadians proud by winning the first ever Gold medal for Ski Cross yesterday. Ashleigh and the Canadian Ski Cross Team are sponsored by Platinum Naturals the only Canadian multi-vitamin certified safe for elite athletes.
Despite snowy conditions McIvor breezed through the final heat maintaining the lead. "There's nothing more I could have done to come here better prepared." McIvor said. Competing in her hometown, with her friends and family cheering, McIvor couldn't have had a better set of circumstances.
Ski Cross, which has made its debut at these Olympic Games, has been recognized as a sport for the past 10 years, puts four to six skiers against each other at a time. The skiers race simultaneously over a course that combines both natural and man-made rollers, jumps, banked turns and tabletops at speeds that can top 70 km/h. McIver's fiercest opponent, France's Ophelie David was eliminated in the quarterfinals, leaving the gold spot open for McIvor to capture.
Dave Ellis, High Performance Director for the Canadian Ski Cross team says activ-x is working great for his team. "When you're up against the best in the world you're looking for every advantage you can get. activ-x helps us to train longer and harder. It reduces recovery time and can even help us to prevent injuries. Those are the kinds of advantages we need to squeeze out that extra performance that can make all the difference in international competition. And of course, the fact that it's certified clean is absolutely priceless. We have to focus on our performance with confidence and activ-x lets us do that."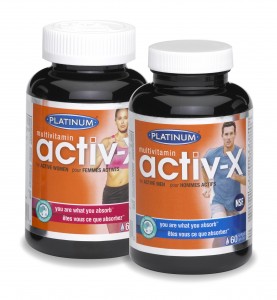 As the official multi-vitamin the Platinum Naturals team, like many Canadians from coast to coast were at the edge of their seats cheering on our athletes. activ-x is the first multivitamin in Canada to be declared free of all substances banned for sport by NSF International.
NSF International's Certified for Sport™ program is recognized by major sporting organizations, such as the Canadian Centre for Ethics in Sport (CCES), the National Football League (NFL) and Major League Baseball (MLB).  
NSF certification is extremely difficult to acquire. The rigorous NSF certification process involves a series of manufacturing facility audits, label claim testing and banned substance testing. Only a few nutritional companies in Canada have embarked on the process and activ-x is the only multivitamin that has passed.
 "We know how hard athletes and their coaches work and how easily victory can be lost. We want them to perform at their peak and we know activ-x can help them do that. activ-x is designed to help athletes increase energy, endurance and performance" Says Platinum Naturals President and CEO, David Khang.
Alive Health Centre, Morning Sun and Supplements Plus  have carried  Platinum Naturals products for years!   Platinum Multivitamins are not just for the Olympic Athlete but as they say they are for the Athlete in you!   As always we welcome you and look forward to seeing you soon!   Go Canada GO!