Omega-7 fatty acids found in purified palmitoleic acid have amazing powers. Omega-7 is a healthy fatty acid like omega-3, that decreases body-wide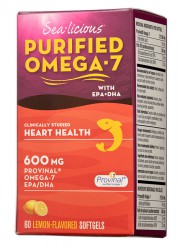 inflammation, supports cardiovascular health and is beneficial for healthy brain function. Contains High  EPA & DHA for effective heart health.
To read more about Omega 7′s check out Jennifer Sygo's recent article on the National Post's website introducing Omega 7
Dr. Oz is always talking about reducing our red meat intake as this can lead to hardening of the arteries.   We must prevent ourselves from running into heart problems as we can do something about reducing the risks of heart attacks by eating right, exercising and taking supplements such as our omega 7's.   Dr. Oz also talks about Purified Omega 7 in addition to your regular essential fatty acids for reducing your risks of heart disease:
"Get another "odd omega" every day. You've already heard plenty about DHA, the great-for-you omega-3 fatty acid in fatty fish and fish or algal oil capsules. And you know of olive oil, the odd omega-9. Now research from Harvard Medical School, the Cleveland Clinic, the University of Hawaii and Japan suggest that purified omega-7s (purified Palmitoleic Acid-a C16 monounsaturated fat) have amazing powers, too."
We hope that you will come and visit us at either Alive Health Centre, Morning Sun or Supplements Plus. Do not sit in silence; there are so many things you can do to better your health! Get excited and take charge of your health. Let's work together, along with your doctor to ensure you are doing all you can to lead a happy and healthy life. Our team looks forward to helping you with what ever your health concerns are.