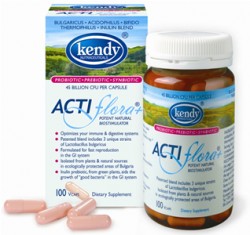 Have you tried many different probiotics to help relieve gastro-intestinal problems such as, gas, bloating, constipation or diarrhea?  Are you still in search other something better?  Probiotics are your army!  They are really your first line of defense and you have to protect them.  If you have not found relief when it comes to your digestive health, you may need a different probiotic along with some other digestive aids.  Remember that our general health starts in the gutt.  The condition of your friendly bacteria will protect you from many health issues. 
Acti Flora + is named the most powerful synbiotic product because of there use of probiotics and prebiotics.  Most of us are aware of probiotics, which is our good bacteria, but what about prebiotics?  Prebiotics are the food ingredients that feed the good bacteria in the (GI) system.  Acti Flora + uses inulin as a prebiotic and inulin can increase the volume of good bacteria by up to x10 !  According to the National Dairy Council the defination of synbiotics is: "Products in which both a probiotic and a prebiotic are combined to have an additive or synergistically beneficial effect on the host by improving the survival and/or implantation of the probiotic in the intestinal tract."
Benefits and Important Information about Acti Flora +
Optimizes your immune systme,energy, infection resistance, and digestive systems.
Patented prebiotic blend contains only natural ingredients and includes 3 unique strains of Lactobacacillus bulgarcus.
Each capsule contains at least 45 billion viable lactic acid probiotic bacteria at time of manufacture.
Extracted from plants and natural sources from Bulgaria.
The use of inulin (prebiotic) greatly aids in the survivial as well as feeds the friendly bacteria in the (GI) system.
Has 100 vegetarian capsules.
Alive Health Centre, Morning Sun and Supplements Plus have been selling this product for years.  Our customers that have been using it love it!  We would love to help you with your health and we look forward to seeing you soon!