Verified: FODMAP Friendly, NON GMO Project & Gluten Free, Caffeine Free
Are you looking for a natural digestive health supplement that is a convenient, flavourless source of prebiotic fiber? MSPrebiotic (the best prebiotic supplement) is a digestion resistant starch that is carefully extracted from potatoes delivering several prebiotic benefits: the growth of healthy bacteria in the gut microbiome, improved digestion, supports regularity and a untapped energy boost. A single prebiotic fiber from a familiar source delivering benefits you didn't expect.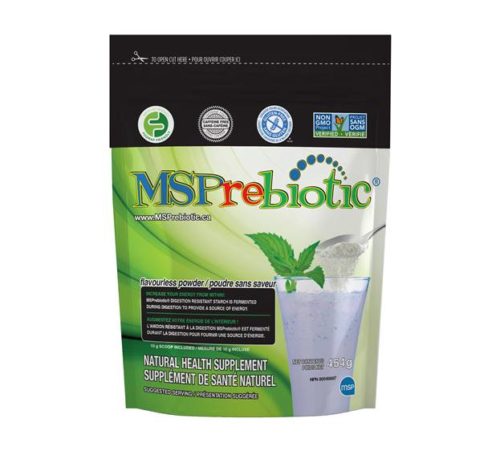 BENEFITS OF USING MSPREBIOTIC
IMPROVES DIGESTION BY SUPPORTING GUT HEALTH
Our colons are the ideal environment for these beneficial bacteria to grow and thrive. But like a garden or lawn left without water or fertilizer, our gut and the microbiome inside can also be neglected. This allows harmful bacteria to take a foothold, leading to Dysbiosis and causing a plethora of problems. Sadly, the risk of developing Dysbiosis increases as we age.
Fortunately, it is easy to keep your gut microbiome happy and to prevent or reverse Dysbiosis – by supplementing your diet with prebiotics. MSPrebiotic ® replenishes the body by renewing the healthy microflora in the digestive tract.   As healthy microflora feed on MSPrebiotic ®, they replicate and increase in numbers, crowding out harmful bacteria while conferring numerous health benefits.   This product has been clinically shown to reverse age-related changes in the gut microflora, thereby returning this ecosystem to one more typical of a healthy, younger individual.
BOOST ENERGY LEVELS
MSPrebiotic differs from most energy supplements because it is not converted to glucose after you consume it. Instead, MSPrebiotic passes through your digestive tract to the colon, where healthy bacteria slowly ferment the supplement to generate short chain fatty acids (SCFAs). SCFAs are a natural energy source and are absorbed into your blood stream to supply energy to the rest of your body. Importantly, SCFAs are produced slowly, gradually entering the body to provide a constant supply of energy – all without impacting your blood sugar.
FUNCTIONAL FIBER
Modern diets lack the Recommended Daily amount (RDA) of dietary fibre, which is associated with the development of serious diseases. In fact, most people ingest only 3 to 8g of fibre per day, which is largely due to the consumption of convenient but highly-processed foods.
MSPrebiotic is both a prebiotic AND a fiber supplement. Each 10 g dose contains 7 g of dietary fiber – roughly equal to the amount of fiber that most people get from their diet on a daily basis. This fiber acts as a prebiotic because it resists digestion and feeds healthy bacteria in your colon, supporting your health in numerous ways.
EASY TO ADD TO DIET
MSPrebiotic comes in a flavourless powder form and can also be easily added to smoothies, shakes, or yogurt – the choice is up to you!
We hope that you will come and visit us at either  Alive Health Centre,  Morning Sunor  Supplements Plus  near you!  Do not sit in silence; there are so many things you can do to better your health!  Get excited  and take charge of your health. Let's work together, along with your doctor to ensure you are doing all you can to lead a happy and healthy life. Our team looks forward to helping you with whatever your health concerns are.