Taking a multivitamin has never been so enjoyable! DECOâ"¢ Adult Dark Chocolate combines the benefits of natural cocoa with vitamins and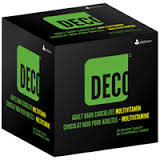 minerals in an easy to absorb formula. Now adults can look forward to taking their daily multivitamin in a healthy, dark chocolate treat.
DECOâ"¢ Adult Dark Chocolate:
Can minimize risk the risk of health conditions associated with poor diet or inadequate nutrition.
Supports traditional, sustainable farming methods and fair trade through the Sustainable Cocoa Initiative.
Is gluten free and formulated without yeast, corn, artificial colours or preservatives.
The information below is from Platinum Naturals explaining why their DECOâ"¢ technology is something to pay attention to…
DECO â"¢
Life by Chocolate
For centuries,  cocoa-rich chocolate has been touted for its great taste and health benefits. The  ancient Aztecs revered the healing powers of the cocoa bean. For many years chocolate  was considered divine nourishment, which may explain how this plant acquired  its botanical name – Theobroma cacao.  In Latin the name for the cacao tree Theobroma  cacao means "Food of the Gods." Throughout  history, cocoa offered several health benefits including improved heart  function, stimulation of the nervous system, facilitated digestion as well as  improved kidney and bowel function.  In the 19th century, chocolate became a luxury item and its consumption was considered  a sin rather than a remedy. Chocolate was an indulgence that was synonymous  with being a rich treat, which in the 20th century then in turn became  known as death by chocolate.  But over  the past decade numerous human scientific studies have examined the benefits of  cocoa and chocolate consumption as part of a heart healthy diet. It has proven  what many through history already seemed to have known, there is life by  chocolate.
Today, science has revealed that cocoa contains  potent phytonutrients and antioxidants, called flavonoids. Flavonoids are antioxidants  found primarily in plant-derived foods. The main flavonoid found in cocoa is  flavanol, which contributes to the bitter flavour of cocoa. These abundant and  biologically active phenolic plant compounds have marked antioxidant and  anti-inflammatory properties.  They are also thought to be responsible for the health benefits ascribed to  chocolate. Research shows that cocoa contains more antioxidants than red wine and  green tea.  The discovery of flavanol-rich cocoa and  the  multiple health  benefits associated with this antioxidant has changed the perception of  chocolate from sinful to healthful.
Platinum Naturals  has developed a way to deliver nutrients through cocoa. Easy to absorb,  DECO™  is an innovative line of supplements that combine vital nutrition with the  health benefits and great taste of natural cocoa. It's chocolate for you. It's  chocolate for life.
Vitamins Solved
For some people, taking  a daily supplement can be a challenge. Large pills may be difficult to swallow.  At Platinum Naturals, we want everyone (regardless of age) to benefit from  daily multivitamin and mineral support. DECOâ"¢  combines natural, premium  Italian chocolate with our innovative approach to supplements.   There are no tablets or capsules to swallow,  which is good news for a lot of people.
For others,  remembering to take a daily vitamin can be a chore. DECO™ makes supplementation  a pleasurable experience. Our convenient chocolate square tablets can be taken  in the morning, after lunch, on an afternoon break or after dinner. It's a  vitamin tailored for your schedule or lifestyle.
A Better Way To Absorb Your Vitamins.  We put nature to  work for your life.
From the aroma of  the chocolate, the digestion process begins with salivation, it then continues  as the square tablet is chewed and digestive enzymes are activated releasing  the nutrients just as nature intended. The potent phytonutrient and rich antioxidant  chocolate in DECO is the ideal medium for vitamins and minerals. Natural  chocolate contains high quality fats that promote absorption. When placed in  natural fats or oils, active ingredients are absorbed far more readily by cell  walls using Platinum Naturals' proprietary, award-winning process.  Platinum Naturals selects the highest quality ingredients and suspends them in oil  to ensure each and every nutrient is preserved and delivered to where it's  needed most. Best of all, our superior level of absorption means you'll feel  the difference Platinum Naturals' products make.
Not only is  natural chocolate a conduit for absorption, but it also enhances the stability  of the square tablet due to the low water activity and barrier to oxygen.
Our Cocoa
At Platinum  Naturals, we take pride in sourcing our ingredients based on quality, sustainability  and fair trade practices. We have made it our mission to help preserve the  finest, most flavourful cocoa plants in the world by supporting traditional, sustainable  farming methods and fair trade through the Sustainable Cocoa Initiative.  As demand for cocoa increases, quality cocoa  beans are often replaced with cheaper, faster-growing alternatives. The  Sustainable Cocoa Initiative supports the lives of the indigenous farmers,  their communities and the succession of the world's supply of cocoa. This program  facilitates native cocoa biodiversity support, income diversity through  multi-cropping and investments to support farming communities that produce  premium quality cocoa beans. Furthermore, this initiative also helps preserve  the genealogy of traditional cocoa plants.
Due to the traditional  farming methods used by the indigenous farmers to continue the cultivation of  native cocoa beans, our cocoa used is traditionally farmed organically with  certification fees invested to support the farmers, not towards certification  logos.
Ingredient and Allergen Info
The ingredients  used in DECOâ"¢  are naturally sourced. Additional information  regarding our ingredients and manufacturing facility are found below:
Gluten free
Formulated  without yeast, corn, artificial colour or preservatives
Soy lecithin is GMO free
Milk used in milk chocolate is  hormone free
Whey powder is from Europe due  to the highest standards of milk processing
Cocoa is GMO and peanut free
Cocoa manufacturing occurs in a  facility where hazelnuts are processed
DECOâ"¢  is  manufactured and packaged in a peanut free facility
DECOâ"¢  products are  manufactured and packaged in a facility where milk ingredients are processed
Hope you enjoyed the article and the above information from Platinum Naturals…
We (Alive Health Centre, Morning Sun and Supplements Plus)  hope that you will come and visit us at either Alive Health Centre, Morning Sun or Supplements Plus. Do not sit in silence; there are so many things you can do to better your health! Get excited and take charge of your health. Let's work together, along with your doctor to ensure you are doing all you can to lead a happy and healthy life. Our team looks forward to helping you with what ever your health concerns are.