A.Vogel Echinaforce ®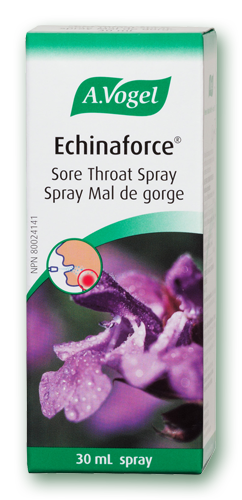 Sore Throat Spray
FAST
Acting! Find Relief in 1st Application!
When it hurts to swallow because of a sore throat, fast relief is needed to reduce discomfort. This Clinically Proven combination of echinacea, peppermint and sage is fast acting, cooling and soothing to the throat. It has been clinically shown to be effective and to have an anesthetic effect that is as powerful as the leading pharmaceutical sore throat medication in Europe. A.Vogel Echinaforce Sore Throat Spray is effective against the pain of swollen tonsils, pharyngitis and general throat pain and inflammation. Finally something to help your throat instantly! This is is a customer favourite and a top seller for A.Vogel for a reason… it WORKS! NPN 80024141
For more information: http://www.avogel.ca/download/Studies/Sore-Throat-Spray-Studies-summary_-2008.pdf
As always, we hope that you will come and visit us at either Alive Health Centre, Morning Sun or Supplements Plus. Do not sit in silence; there are so many things you can do to better your health! Get excited and take charge of your health. Let's work together, along with your doctor to ensure you are doing all you can to lead a happy and healthy life. Our team looks forward to helping you with what ever your health concerns are.
Also, if there is not a location near you, we do MAIL ORDERS call us toll free at 1 866 499 9546